---
Donor states should instead strategically condition aid to the relevant parties upon actions taken toward specific policy goals that facilitate humanitarian work.
April 19, 2021
---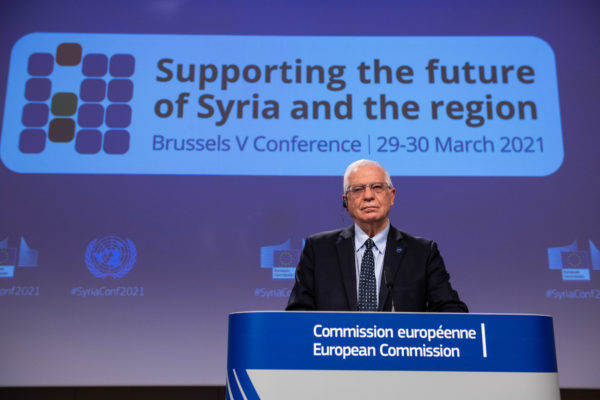 Source: Syria Justice and Accountability Centre
---
The fifth annual Brussels Conference on 'Supporting the future of Syria and the Region' (Brussels V) concluded on March 30 with disappointing results. Although participants put forth an admirable vision for improved humanitarian prospects in Syria and neighboring countries, pledged donor aid fell. Moreover, the aid did not come with the international political commitments needed to ensure that the funds can effectively reach those who need them. The conference rather promised to extend for another year the problematic system of aid delivery and political impunity that have contributed to the crises of food, public health, and fuel confronting Syrians today. It sometimes engaged with topics like international aid delivery monitoring or detainee releases, but failed to ensure that there was political weight behind discussion. Future iterations of the Brussels Conference must be strategically linked to international negotiations around those issues if it is to avoid prolonging the very same humanitarian crises it is seeking to address. It is the responsibility of donor states in the EU and the UN to address these challenges and ensure that pledged aid has an ability to make a real impact on the ground.
As an event jointly sponsored by the UN and EU, Brussels V aspired to survey the most pressing immediate and long-term humanitarian needs facing Syria and the region today, and to then secure international grants and loans for the purpose of addressing those needs. There were six panels: on economic development and sustainable livelihoods; food security; accountability, detainees, and missing persons; the need for a political solution to the conflict; regional resilience and challenges to neighboring countries; and humanitarian aid for education and protection. Furthermore, dozens of side-events brought together Syrian civil society actors, humanitarian aid organizations, and representatives of donor states to discuss issues ranging from children's rights to the challenges of financing humanitarian operations in light of sanctions. Syrian victims associations once again bravely highlighted the importance of releasing detainees and information on the fate of the missing. Finally, representatives of donor states and EU and UN bodies lamented the dire humanitarian conditions of Syrians and the burden that the conflict has placed on neighboring states like Lebanon. Notably, EU Foreign Affairs Chief Josep Borrell openly acknowledged the origins of the current conflict and humanitarian crisis: the Syrian government's violent crackdown on peaceful civilian protests a decade ago.
However, even according to its own standards, the conference was a disappointment. The $6.4 billion that donor states pledged is less than last year's total ($7.3 billion) despite the marked deterioration of humanitarian conditions in Syria in 2020. This number is also far short of the $10 billion that UN aid agencies had requested prior to the conference. The EU, Germany, and others maintained previous levels of commitment, but the UK stood out by significantly reducing its level of financial support. While the economic impact of the pandemic doubtless affected states' willingness to pledge funds, donor fatigue over the lack of progress on key issues in the Syrian conflict likely also played a role. Falling support for the Brussels conferences is thus due in part to the fact that these meetings have continually presented comprehensive visions for the future without a pursuing a political strategy through which to realize them.
The Brussels V funds will undoubtedly alleviate the suffering of millions of Syrians by facilitating cross-border and cross-line deliveries of food and medical aid. Yet the fact that the Brussel Conference ultimately presents itself as merely a pledging platform separate from political processes means that even the original target amount would not have been sufficient to address the overlapping crises facing Syria. While numerous factors have contributed to severe shortages of bread, fuel, and COVID-related medical care–such as the collapse of the Syrian pound, a long-term decline in wheat production, and international sanctions–the policies of the Syrian government and its allies have been the key drivers. Likewise, the Syrian government's well-documented practice of diverting aid into the hands of security services, or delivering it in a discriminatory fashion, systematically prevents humanitarian organizations from reaching populations desperately in need of relief. Russia's veto of attempts to maintain humanitarian border crossings into Syria has exacerbated this problem by channeling aid through Damascus. Not only did Brussels V fail to strongly challenge these particular practices, but it also maintained the conference's generally inconsistent stance toward the Syrian government: on the one hand, Brussels V excluded the Syrian government from the proceedings; on the other hand, it did not pressure EU member-states to cease deporting their Syrian refugee populations and thereby reject the Syrian government's false promises of security for returnees.
The UN and EU must reconfigure future iterations of the Brussels Conference to acknowledge the political reality in which humanitarian aid operates. This does not mean conditioning humanitarian aid on the realization of the full breadth of UNSC Resolution 2254. Some of its elements are currently infeasible, such as a negotiated political transition with accountability for abuses by the Syrian government. It is precisely such unrealistic demands that have given governments like the UK an excuse to reduce aid to Syrians. Additionally, withholding aid on this basis will only hurt Syrians while doing nothing to alter the behavior of the Syrian government. The latter has repeatedly demonstrated that it is willing to put the interests of its small political and economic elite above those of the majority of citizens.
Donor states should instead strategically condition aid to the relevant parties upon actions taken toward specific policy goals that facilitate humanitarian work. This would entail appealing both to states that bolster the Syrian government as well EU states that host Syrian refugee populations. Notably, Russia has significant geopolitical and economic interests in preventing the kind of political instability that could arise in Syria if the current humanitarian crises continue to worsen.
As such, Russia should be publicly pressured to allow international monitoring of aid delivery via Damascus, and to support the reauthorization of all humanitarian border crossings – including those that were closed in 2020. While the Syrian government has regarded actions of this kind as violations of Syrian sovereignty, it has allowed Russia to unilaterally negotiate cross-line agreements with Turkey. Donor states should also pressure Russia to guarantee against further strikes on humanitarian border crossings. They may increase pressure on Russia by threatening further sanctions on Russian officials, accountability for Russian war crimes in Syria at the European Court of Human Rights, or withdrawal from EU-Russian economic partnerships.
Strategic and politically principled coordination at the Brussels Conference would also have other positive effects. First and foremost, improved aid delivery would provide arguments for restoring previous levels of financial support from donor states. A reconfigured Brussels framework would also offer a space for greater coordination between the siloed EU and US systems of international sanctions and humanitarian exemptions. If these pressure strategies worked to improve aid delivery, it could lay the groundwork for discussions and other concrete demands of Syrians and the international community, on the one hand, and the priorities of the Syrian government and its allies on the other. Following evidence of improved aid delivery, the incremental release of rehabilitation funds could be offered in exchange for progress on issues like detainee releases or security guarantees. Pursued in this way, humanitarian aid collected through the Brussels Conference could support larger strategic goals in Syria rather than merely prolonging the country's present crises.
---
---