---
Last month, the autonomous administration in northeastern Syria was responsible for the first violation in Hasaka, while the military police of the Syrian opposition committed the other violation in the countryside of Aleppo
June 3, 2020
---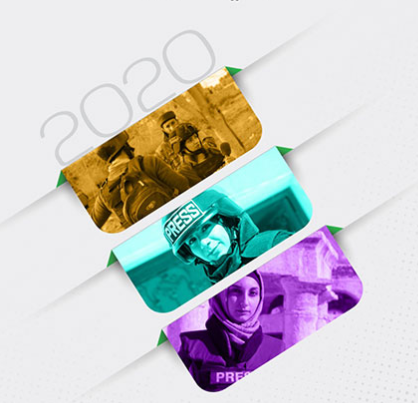 ---
Source: Syrian Journalists Association  
---
The state of restrictions on media freedoms was a direct cause of the violations committed against the media in Syria during May. This was the case in the previous months of this year, in which the number of violations decreased in general, as a result of the cessation of battles and the systematic bombing by the Syrian regime and its allies in various regions in the north of Syria.
The precautionary measures throughout Syria (albeit partially) to prevent the new coronavirus, have had direct effects on the work of media professionals and a decrease in media activity.
SCJF in the Syrian Journalists Association SJA has documented during May two violations against the media in Syria, as in January, and close to March (three violations), and less than April (5 violations). Whereas February witnessed the highest number of violations during the current year (11 violations).
Last month, the autonomous administration in northeastern Syria was responsible for the first violation in Hasaka, while the military police of the Syrian opposition committed the other violation in the countryside of Aleppo.
The two violations committed last May were limited to detention and suspending from media work. The military police detained the media activist Mahmoud Mohamed Khair Fawaz, known as "Mahmoud Al-Dimashqi" in the city of Afrin in the northern countryside of Aleppo, on the pretext of criticizing the National Army on social media, and released him after 4 days of his detention.
The Media Office of the Autonomous Administration of North and East Syria (NES) also decided on May 10, 2020, to suspend Vivan Fattah from practicing media work for 60 days in the areas under its control, on the pretext of the use of "the dead" instead of "martyrs" in a news report. NES considered it "an abuse of the martyrs and their families" as described.
It should be noted that Syria ranked 174 out of 180 countries in terms of the overall score in the World Press Freedom Index for 2020, issued by Reporters Without Borders on May 2. However, Syria still leads the index in terms of the number of violations and acts of violence against journalists, ranking first with a ratio of 82.05.
---
For the full version of the report please download it in PDF format from the attached link.
---