---
Monument for Bassel al-Assad, who died in 1994, provokes outrage online as Syrians struggle to make ends meet
November 23, 2020
---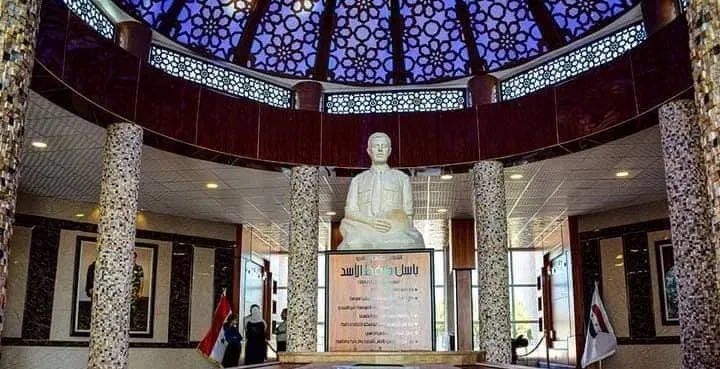 Source: Middle East Eye | By Nur Ayoubi
---
Syrians are struggling to buy fuel to warm them in the winter, queueing for hours for bread and desperately seeking basic medicine that's hard to find and even harder to afford.
But that hasn't stopped the government in Damascus from opening a flashy new museum in memory of the president's long-dead brother, Bassel al-Assad.
Outrage over the attraction, which commemorates the life of the man destined to lead Syria until his death in a 1994 car accident, has grown online.
It was inaugurated on Tuesday in Latakia, the home province of the Assad family and the area of Syria that has provided the most soldiers for the government's ranks over the past decade of war.
According to state news agency SANA, the marble-laid museum with ornate stained glass windows was opened in al-Assad Sports City by the General Sports Federation to commemorate, "the martyr, the Golden Knight, Bassel al-Assad".
The museum is reported to be 350 square metres with an additional garden of 8,000 square metres. It displays Bassel's belongings as well as a collection of 60 pictures, trophies and medals belonging to the late brother of President Bashar al-Assad.
Online, many have shared images of the building and juxtaposed them with poverty in the country amid worsening economic conditions.
Translation: People cannot find what to eat and the queues for bread extend in the streets of Damascus for several kilometres… and Assad's regime opens a museum for Bashar's brother, Bassel who died in a car accident in 1994. Bassel was neither a parliamentarian nor a minister, and he did not provide any achievements for Syria other than imprisoning his friend, Al Faris Adnan Al-Qasser for 24 years because he preceded him in equestrianism.
The Syrian Network for Human Rights activist group condemned the opening of the museum, estimating that the project cost the government millions of dollars.
"Wasting the Syrian state's resources on regime vanity projects which have no benefit for the Syrian people… is a further grotesque insult to the nation's citizens," the statement read.
The sentiment was shared by many people online, who took to social media to share their outrage at such an outlay while Syrians struggle to make ends meet.
Translation: At a time when Syrians do not find anything to eat and they queue to get bread and other sources of sustenance, gas and oil, and an employee's salary does not exceed 20 dollars a month, al-Assad opens a museum in Latakia to commemorate his dead brother Bassel.
Some went for a somewhat more sarcastic tone.
Bassel was the eldest son of longtime leader Hafez al-Assad and was generally expected to succeed his father as president. However, his death upended succession plans and catapulted Bashar, who was practicing as a doctor at the time, into a life of leadership.
Since 2011, Bashar al-Assad's government has been at war with an opposition that rose from a deadly crackdown on protests against his rule. Half a million people have been killed in the conflict and about 12 million have been displaced.
This week, the Assad family celebrated 50 years in power.
Earlier this month, images emerged showing people in Damascus being forced to wait in crowded iron cages to queue for bread.
Devestated by ten years of war and harsh US sanctions, Syria is experiencing a huge economic crisis. Fuel and food prices have skyrocketed, and there is widespread scarcity.
Meanwhile, coronavirus is tearing through the country in both government-held areas and the opposition's last pocket in Syria's northwest.