---
Nour al-Shalo, who has been detained for two months, is known for her work supporting women and the disadvantaged in Syria's Idlib
November 21, 2020
---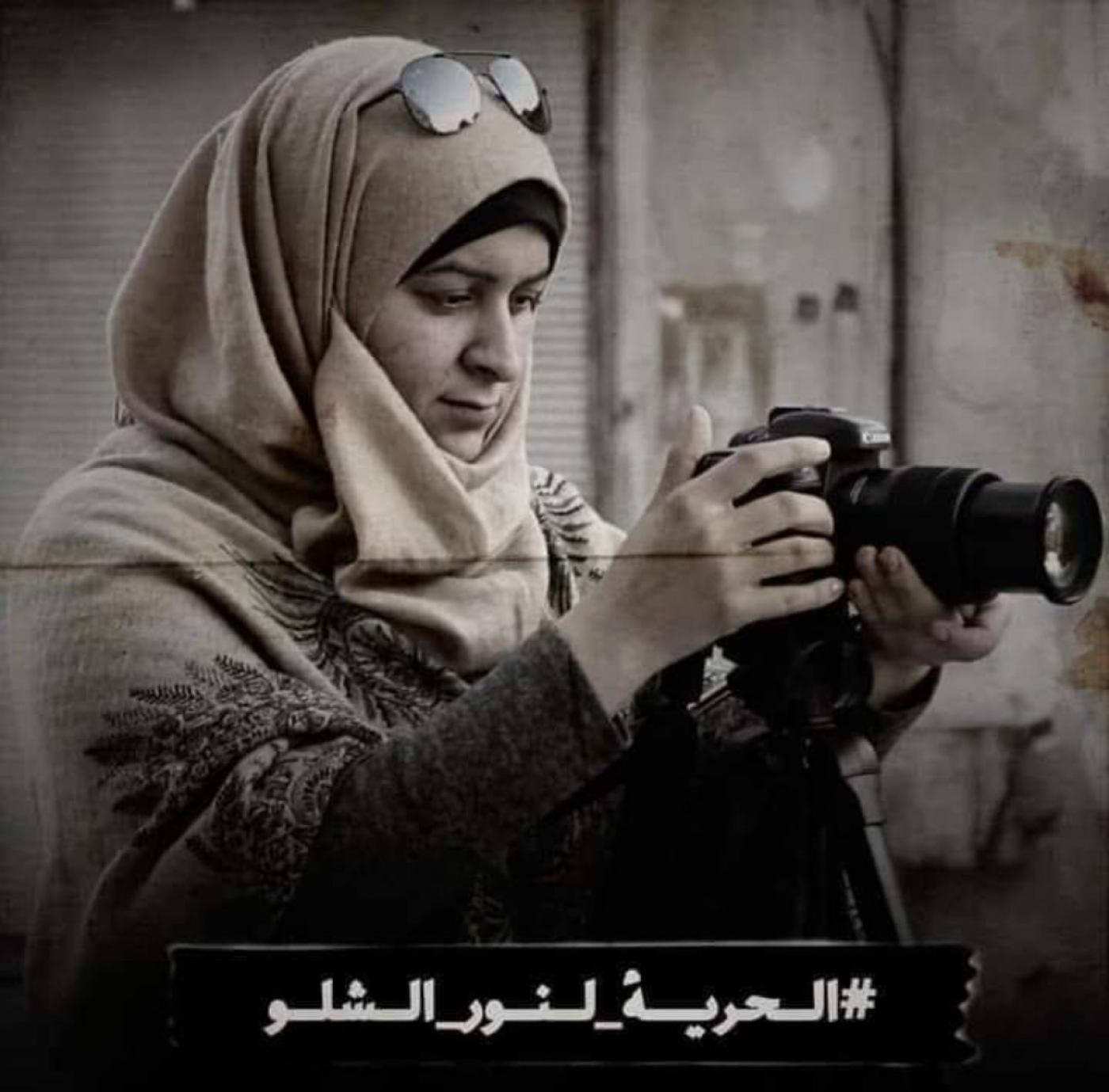 Source: Middle East Eye | By Nur Ayoubi
---
Fears grew on Friday for Syrian journalist and human rights activist Nour al-Shalo, who was reported to be facing execution after being detained for two months in Syria's Idlib province by militant group Hay'at Tahrir al-Sham (HTS).
According to Syria.tv, a pro-opposition news network based in Istanbul, the death sentence was issued over Shalo's alleged communication with the US-led coalition fighting the Islamic State group.
The network reported that the date set for the execution is next Friday.
However the sentencing was denied by analyst Elizabeth Tsurkov, who said an HTS official and friend of Shalo's had said the news was spread in an attempt to attract attention to her case.
HTS, an al-Qaeda offshoot that holds the majority of Syria's opposition-held northwest, has detained several activists and journalists in recent weeks, including Middle East Eye contributor Bilal Abdul Kareem.
It is not clear why HTS arrested Shalo in the first place, with several different accusations – from spying to blackmail – reported.
However, in a radio interview earlier this week, Shalo's mother said HTS had kept the family completely in the dark.
"No one is telling us anything. Nobody knows anything at all. Not where she is or what she's been accused of," she said.
"We have been to the court and we've tried to ask about her. They didn't give us any information. Every time we ask someone, they tell us not to ask otherwise we will be kidnapped."
---
Supporting women
Shalo is from the al-Atarib region of the Aleppo countryside. The widowed mother of three regularly uses her platform to speak on the role of women in Syrian society.
In an interview published last year, she highlighted the need to support women and female empowerment.
"My work has allowed me to contribute to projects which support women professionally and intellectually. I am able to reach a large number of marginalised women in the community whether they are widows, divorcees or have lost their husbands," she said.
Shilo's arrest and reported sentencing have caused grave concern among activists.
Wafa Ali Mustafa, an activist and member of Families for Freedom, an organisation that campaigns against the enforced disappearance and detention of Syrians, told MEE that Shalo was always in danger working in HTS-held Idlib province.
"HTS is infamous for committing extrajudicial executions of innocent citizens, including activists and journalists," she said.
"HTS is raising these absurd charges against Nour to defame her and justify her unlawful detention and execution. Nour is just like many of us. Her story represents stories of countless women all over the world, fighting against tyranny, terrorism and patriarchy on a daily basis."
Syrian journalist Qusay Noor said the militant group has been attempting to exert control through limiting independent voices.
"HTS is trying to pressure the people to keep their authority in Idlib, they want Idlib to be under its rule only. There is no reason for the arrest," he told MEE.
Activists on social media have adopted the Arabic hashtag "Freedom for Nour al-Shalo" to spread awareness of the journalist's plight while urging for her release.
HTS was formed in 2017 as a merger between multiple militant groups in Syria. It is currently led by Jabhat Fatah al-Sham, formerly known as the Nusra Front, and ex-Ahrar al-Sham leaders.
In 2019 the group had an estimated 20,000 members and retains administrative control of the Idlib area through its so-called National Salvation Government.
Earlier this year, the Syrian Network for Human Rights activist group reported that more than 700 citizen journalists had been killed in Syria since the beginning of the civil war in 2011.
---
---