---
The Syrian government puts swaths of highly profitable agricultural lands, owned by displaced persons, up for auction.
January 14, 2021
---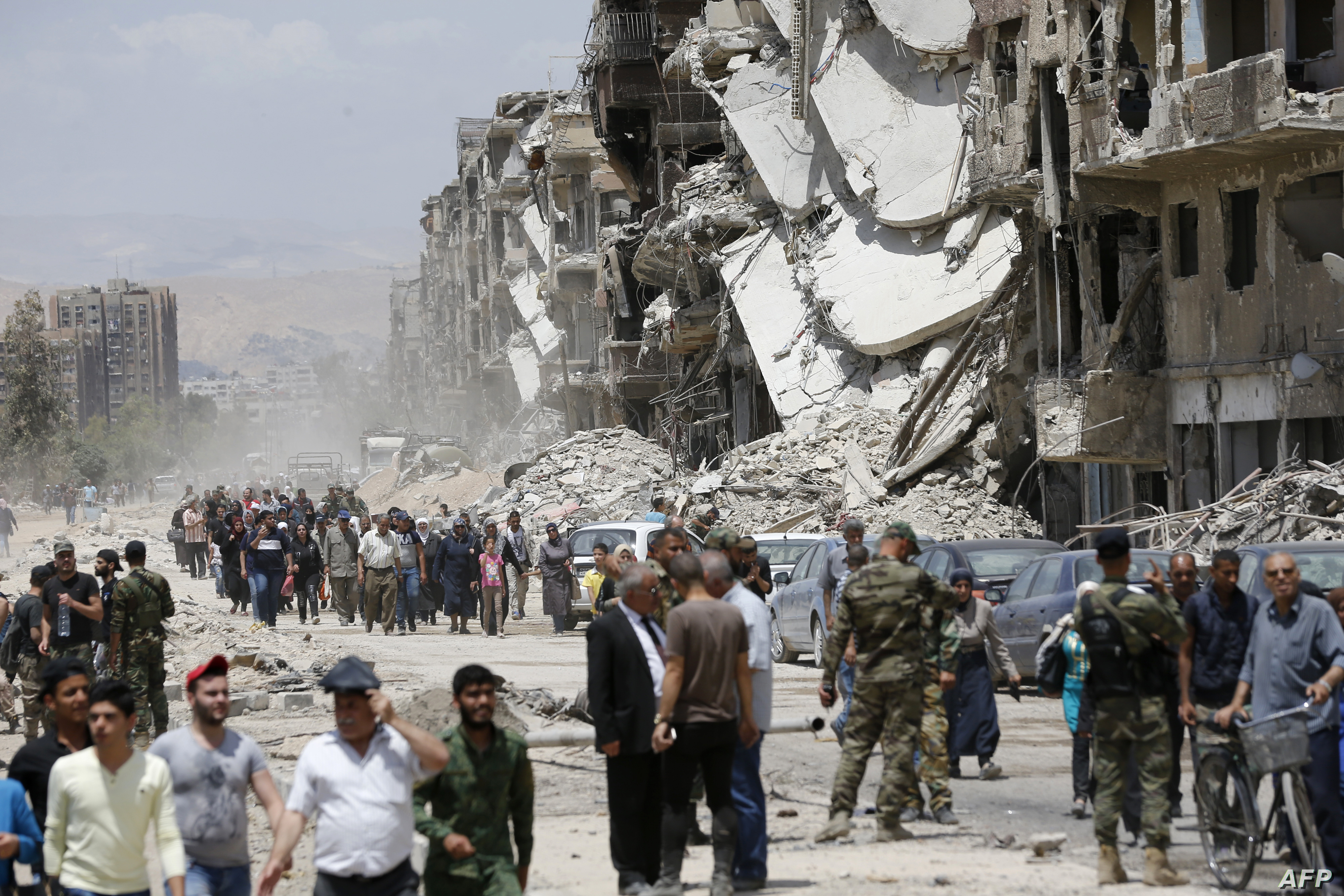 Source: By Mohamad Karkas , Husam Hezaber in Gaziantep, Turkey |Middle East Eye

---
Displaced people around Syria are coming to grips with reports about their properties being auctioned off by the government, with many feeling powerless and unable to confront the land theft from cramped tents, far away from home.
"Our lands, which we have spent our lives cultivating and repairing, are now being stolen, but we cannot do anything," said Abu Rayyan al-Hamwe, a displaced civilian from al-Tamanah town in rural Hama.
"Four months ago, we received information that regime forces had seized our land, and leased it to people loyal to them in the region. One dunam (1,000 square metres) of our land was rented for 80,000 Syrian pounds as part of an auction by the city council."
Local authorities in areas recaptured by the government in northwest Syria have confiscated agricultural lands using the pretext that they have the right to auction off private lands whose owners "don't reside in government-controlled areas".
Hamwe, a father of four, and his brothers now live in the Atma camp near the Syrian-Turkish border, after fleeing a government military campaign in 2017. They left behind their land and their homes.
"I have 22 dunams of agricultural land in which I grew all types of vegetables, while another part of the land was planted with olive and pomegranate trees," Hamwe told Middle East Eye.
"I was able to secure all my living necessities. Now I work as a labourer in whatever is available to me to secure my daily sustenance."
In the summer of 2019, government forces, with the support of Russia and Iran-backed militias, invaded opposition-held areas in the northern countryside of Hama and the southeastern countryside of Idlib, gaining complete control of the region.
A few months later, an agreement signed between Russia and Turkey in the Russian town of Sochi largely stopped the fighting in northwestern Syria. At that point, government forces had already taken control of the entire northern countryside of Hama, most of the villages in the southern countryside of Idlib, and the entire eastern countryside.
---
Rich lands
The Syrian Legalists Committee said the Syrian government has divided the region into sectors and has assigned the management of each to different intelligence branches, such as the Military Intelligence Division, the Air Force Intelligence Administration, the General Intelligence Department, and the Political Security Division, in addition to Shabiha, the gangs of government-backed armed enforcers, who operate under the leadership of the security committee in both Hama and Idlib provinces.
Abdul-Nasser Hoshan, a lawyer and member of Syrian Legalists Committee, said that the areas seized by government forces in the northern, eastern and western Hama countryside are estimated to amount to 60,000 dunams.
Meanwhile, he said, the land grab has been nearly three times bigger in the southern and eastern Idlib countryside, and the southern and western Aleppo countryside.
Among the lands seized by government forces are some of Syria's major fish farms in al-Ghab Plain; lands cultivating pistachios in Morek, Kafr Zita, and al-Lataminah in Hama's north; the towns of Khan Sheikhoun and al-Tamana in Idlib's south, and lands of wheat and barley in Maaret al-Numan and Saraqib, southwest of Idlib.
The government also seized agricultural lands cultivating various vegetables and thousands of acres of olive trees, whose seasons can fetch billions of dollars in profit.
After disagreements between intelligence officers about the distribution of the crops, Simon al-Wakeel, commander of the National Defence in Mahrada city, and Nebal al-Abdullah, commander of National Defence in Suqaylabiyah city, both stationed on the road connecting the cities, were ordered to burn the harvest of wheat adjacent to their Kafrhud checkpoint.
The fire spread to the east and devoured the harvest of lands in al-Jibeen, Hasara, Zakat, al-Arbaeen, Kfar Zita, al-Lataminah, Latmine, and Morek, in the northern countryside of Hama.
The order came from the sector commander of the Air Force Intelligence.
"The area that was burned covered 17,000 dunams, 7,000 of which were planted with pistachios and olive trees, while the rest were planted with grains," Hoshan said.
---
Law 10
At the beginning of September 2019, government security committees made a decision to take over the pistachio and olive seasons in newly-captured areas, where they organised auctions to sell the harvest. Meanwhile, they formed executive committees in every city and every village to count and enforce conditions of participating in the auctions, for the benefit of merchants who have dealings with intelligence branches.
Hoshan said that, until now, the government has held more than 70 public auctions in Idlib, Hama and Aleppo, the majority of which were held in the Hama countryside because its northern regions fell months before the others.
"This step comes within the framework of the Assad regime's plan to strip Syrians of their movable and immovable property, whether from banks or in real estate," Hoshan said.
"The government first started implementing its anti-terrorism law and then Law No. 10 in 2018, which deprived Syrians from their rights to rent, cultivate, harvest, while its forces plundered crops, offering them to militia as a reward for their crimes against the Syrian people."
Law 10 is a controversial law allowing local authorities to take possession of properties in the areas worst affected by the war.
Abdul-Rahman al-Ahmad is another displaced Syrian who lost his land in Kfar Zita, a town in rural Hama. His land holds 20 dunams of pistachio trees, and 4 dunams of olive trees.
Relatives sent Ahmad notice that his land was offered in public auction in the town of Maherd located in northern Hama and is controlled by the National Defence militia led by Wakeel.
Ahmad was informed that the land was leased to a person residing in government-controlled areas for the sum of 200,000 Syrian Pounds per dunum for a season
"My mother died a few months ago because of the oppression in our lands and our houses, which were seized by the Assad forces," he said.
Some of Ahmad's extended family's houses were destroyed, while others were pillaged.
Ahmad said he hopes to return home with his family, to the land he was deprived from working on, and to recapture all these areas from the government.
"Returning to my land means that I will get rid of the hell that I live in with my children in this tent," he said.
---
---