---
A new report by the Syrian Association for Citizens' Dignity has highlight the fear experienced my many Syrians who return to regime controlled areas writes Brocar Press
October 18, 2019
---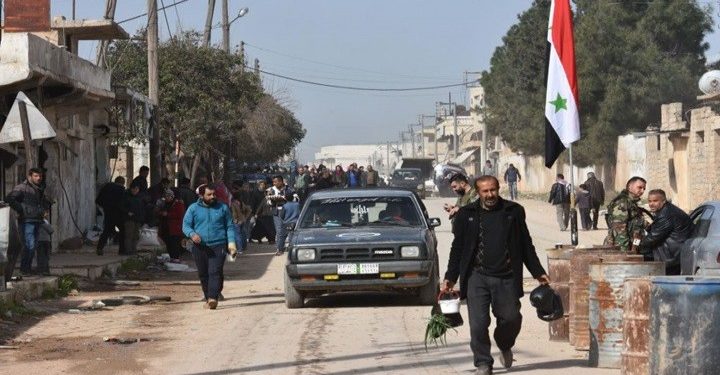 Source: The Syrian Observer| by BROCAR PRESS
---
The percentage of men who do not feel safe in regime-controlled parts of Syria has reached 68 percent, while the percent of women has reached 59 percent, according to a study prepared by the Syrian Association for Citizens' Dignity, which attributed the reason to the arbitrary arrests, forcible conscription, and spread of chaos because of regime and loyalist militias' violations.
In a conference organized in Istanbul, the Association issued a report titled "Revenge, Oppression and Fear: The Reality Behind Assad's Promises to Displaced Syrians."
A member of the non-governmental association, Fadi Nazhat, said that the study included interviews with 165 Syrians from the Damascus countryside, Aleppo, Homs and Daraa provinces. It said that 62 percent of the participants in the study said that they personally or one of their relatives had been subjected to arbitrary arrest by regime security agencies.
It said that 72 percent of the displaced returnees to regime areas who had been arrested had been included in the amnesty, or had signed settlements with the regime.
A member of the board of trustees of the association, Mazen Ksaybi, said that the study discussed 10 million Syrians who had been subjected to violations in regime areas.
Ksaybi said the the return of the displaced and refugees to regime-controlled areas should be ensured within the framework of a political settlement, and there should be an explicit international mechanism to ensure the respect of human rights.
Millions of Syrian refugees around the world fear security pursuit and arrest based on the experiences of people who have returned to Syria, or who were in areas outside regime control, and then moved to regime areas and were harassed or arrested.
Young people also fear forcible conscription and reserve service, which the Syrian regime is imposing.
---
---