---
Russian raids on rebel-held enclave threaten fragile truce, though shelling has not abated since it began 11 days ago
September 11, 2019
---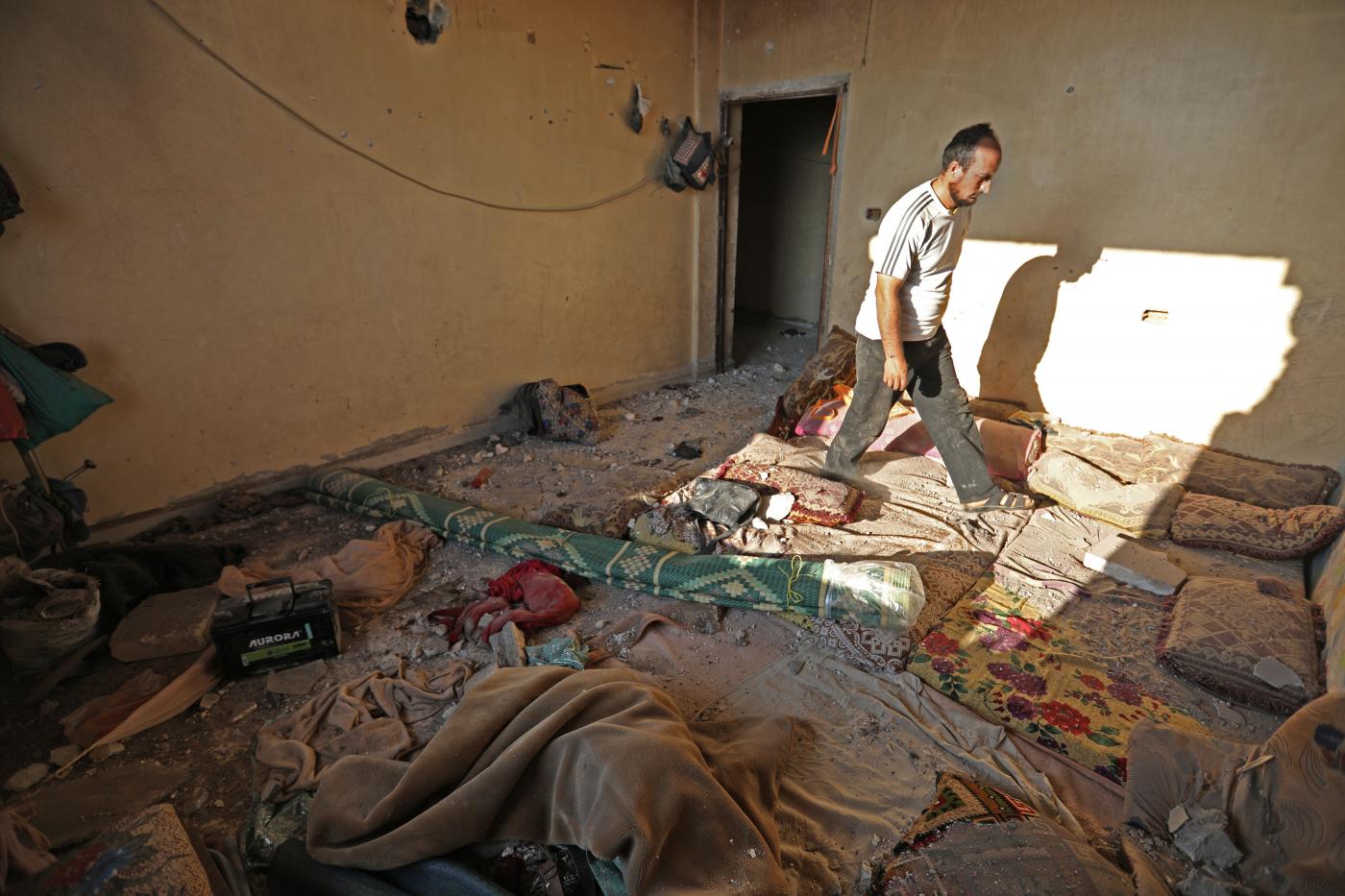 ---
Source: Middle East Eye | By Harun al-Aswad
---
Russian air strikes on Idlib province killed an elderly man on Wednesday, the first victim since a ceasefire was declared 11 days ago in the last rebel-held enclave in Syria, sources and an activist group said.
---
Pro-Syrian government forces unilaterally paused their air campaign against northern Syria's Idlib on 31 August, with the skies free of air strikes since then. However, warplanes resumed bombing on Wednesday.
The Syrian Observatory for Human Rights had reported Russian air raids on the town of Kabaneh in the strategic Jabal al-Akrad region on Tuesday.
But sources told Middle East Eye that the strikes were, in fact, artillery and overflying warplanes caused the confusion.
"There were no air raids on the area Tuesday, no attacks were detected, except for continuous artillery shelling," a rebel commander stationed near Kabaneh told MEE on condition of anonymity because he wasn't authorised to speak to the media.
The commander said government forces are stationed in several military barracks surrounding the Kabaneh area, such as Kanasba and Tal Abu Ali.
"All these sites, which contain medium and heavy weapons, take turns in targeting the area," he said.
The latest attacks targeted an air observation post in the town of Taltita, near the city of Kfar Takharim, in Idlib's west, the commander said.
Islamist fighters, including some belonging to Hay'at Tahrir al-Sham, are stationed in Kabaneh.
Meanwhile, Baraa al-Jisri, an activist from Jisr al-Shughur, told MEE that the Kabaneh area was targeted by both Russian warplanes and artillery shelling from the Jeb al-Ahmar army barracks.
Activist Bassel Hawwa said Wednesday's strikes on the village of al-Daher, in Idlib's western countryside, hit an area where displaced people have been residing for the past year and a half in an old government building locally called al-Irshadiya.
"Most of the building's residents fled after the first air strike hit the area, except for a 75-year-old man that did not manage to escape and was killed in subsequent attacks on the building," Hawwa told MEE.
The man's son, Abu Anas, told the AFP news agency that his father, Ahmed Issa al-Moussa, was unable to get out in time because he was elderly and had difficulty walking.
Most of the displaced had originally fled from the Aleppo southern countryside and the Abu al-Duhur town in Idlib's east.
Hawwa said the attacks were carried out by Russian warplanes. Activists and observers in northern Syria determine the type of aircraft according to their sound, as well as the remnants of the missiles dropped by the planes.
The UK-based Observatory, which relies on a number of sources on the ground, reported pro-government shelling on Kar Sejnah, Hazareen, Kfar Nubul, Deir Sharqi and other towns in the south of Idlib.
The ceasefire had brought relative respite to Idlib province, where the Syrian government and Russia have been waging heavy bombardment campaigns and ground battles for the past four months.
Residents have told MEE, however, that artillery shelling on southern Idlib has not stopped since the truce was announced.
"The continuous shelling has killed and wounded a number of civilians, including displaced people trying return to their villages to get rid of the misery of displacement," said activist Qusay al-Hussein, residing in al-Ghadafa village, in Idlib's east.
Hussein said shelling of empty buildings has exposed private properties to robberies, and so some people also try to temporarily return to either check on their possessions or bring what they had left.
"Although villages are empty of civilians, several young people have stayed in neighbourhoods to protect their own properties and those of the displaced."
Some three million people are trapped in Idlib and its environs, with around half already displaced from elsewhere in Syria.
The area, which also includes parts of Aleppo and Latakia provinces, is controlled by the Hay'at Tahrir al-Sham militant alliance and an array of Turkey-backed rebel groups.
In other developments, meanwhile, Hungary became the first European Union country to upgrade its diplomatic presence in Syria after it announced plans on Wednesday to appoint a diplomat to be stationed in Damascus next year.
In a statement sent to AFP, Hungary's foreign minister said his country "will delegate a diplomat who will occasionally visit Syria to make follow-ups on humanitarian support and to conduct consular duties."
A source close to the Hungarian government said Budapest was exploring ways to engage with President Bashar al-Assad to help Christians and be "ahead of" other EU countries, possibly re-opening ties for economic opportunities.