---
As usual, the Syrian regime committed the most deadly violations against journalists as it killed one media professional and injured one by directly targeting their locations while doing media coverage. On the other hand, HTS and PYD committed 3 violations each
December 9, 2019
---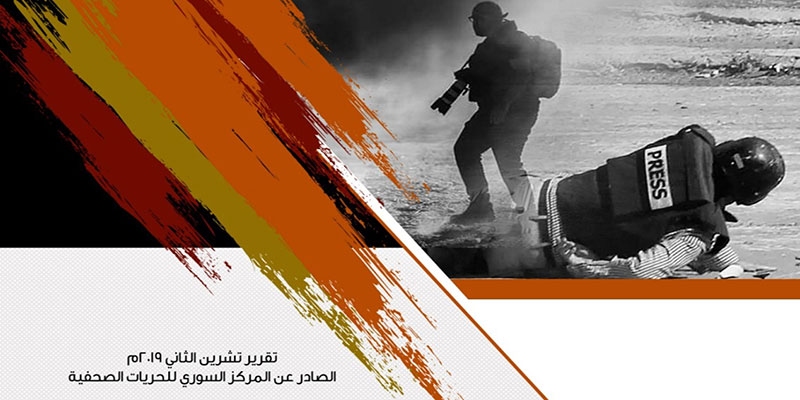 Source: The Syrian Journalists Association
---
Violations against media in Syria have been still ongoing since the beginning of the current year. The violations varied in number and type from one month to another according to incidents and risks surrounding the media work in Syria. However, the systematic shelling by the Syrian regime and the continuous restrictions of media freedoms in the north and north-western Syria are considered the main reasons for violations in November 2019. 
The SCJF of the SJA documented 8 violations against media in Syria in November 2019. Seven out of the eight documented violations were committed in November 2019 while one violation was committed in October 2019 and documented in November after verifying it according to criteria and methodology of documentation. Hence, November 2019 witnessed a significant decrease in the number of violations compared to that documented in October 2019 (17 violations.)  
As usual, the Syrian regime committed the most deadly violations against journalists as it killed one media professional and injured one by directly targeting their locations while doing media coverage. On the other hand, HTS and PYD committed 3 violations each. 
The SCJF documented the killing of media professional Abdulhamid Khidr al-Yusuf as he was hit by the regime's artillery bombardment on the town of Kafr Roma in Idlib southern countryside while he was doing media coverage in the region. Hence, the number of killed media professionals documented by the SCJF has increased to 455 since mid-March 2011. 
The SCJF also documented the injury of media professional Ahmad Mustafa al-Khatib (aka Khtib al-Idlibi) as he suffered slight injury by the regime's artillery bombardment while he was doing media coverage of clashes between the regime and opposition's factions in the east-southern Idlib countryside.   
The SCJF also documented the detention of media professional Butan SheikhSuleiman by PYD's Asayish in the city of Ayn al-Arab (Kobani) in Aleppo countryside because of his media work. It is worth noting that Butan is still in detention at the time of publishing this report. Also, HTS detained media professional Kinana Hindawi on Nov. 21, 2019, in Idlib countryside under the pretext of his criticism of HTS, though, he was released on Nov. 24, 2019.   
Also, PYD's Asayish detained media professionals Alaa Sadoun and Haytham Muslim in the city of Ayn al-Arab in Aleppo countryside for their media work, though,they were released after 24 hours.  
Furthermore, the SCJF also documented the hitting of media professional Omar Haj Kaddour and Ibrahim Salah Khatib by members of HTS while they were doing media coverage of demonstrations held against HTS in Idlib's Taftanaz.   
As for geographical distribution, violations mainly occurredin Aleppo and Idlib provinces as Idlib witnessed 5 violations while Aleppo witnessed 3violations.     
Finally, in November 2019, the SCJF witnessed 3 releases of media professionals who were detained by HTS. The armed group released media professionals Sahl Abdulhamid Abdulsalam (after arresting him for about a month), Amjad Abdulaziz al-Malih (after arresting him for more than 2 years) and Muhammed Khalid Jadaan (after arresting him for 2 months.)
---
For the full version of the report please download it in PDF format from the attached link
---