---
Thus, April witnessed a convergence in the numbers of violations of what was documented in March (3 violations) and January (two violations only) and a significant decrease from February (11 violations)
May 3, 2020
---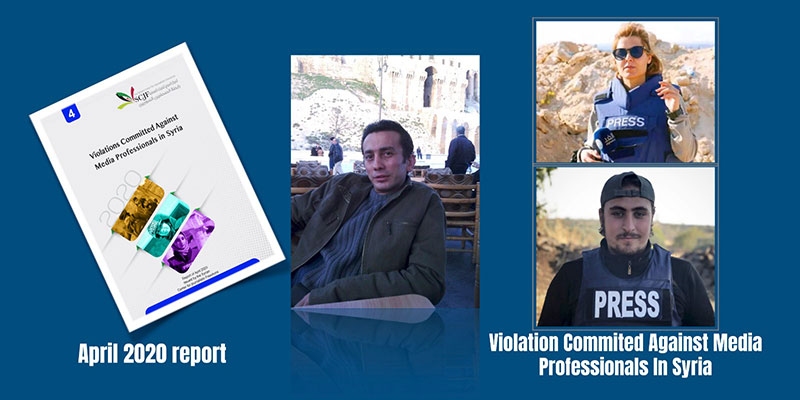 Source: Syrian Journalists Association
---
The graph of violations against the media in Syria witnessed a slight rise last April, despite the cessation of battles and bombings which are the most prominent causes of violations committed in all of Syria over the past years. Nonetheless, the Syrian regime continues to pursue a policy of killing in its prisons. In addition to restricting media freedoms in various Syrian regions, they were direct causes of documented violations in April 2020.
The number of documented violations (ups and downs) is converging over the previous months of this year, with a marked variation in their quality. The Syrian Center for Journalistic Freedom in the Syrian Journalists Association has documented in April 5 violations against the media in Syria, 4 of which were committed last April. While the other violation was in 2016, the center documented it after confirming that it occurred, knew about it, and complied with its documentation standards.
Thus, April witnessed a convergence in the numbers of violations of what was documented in March (3 violations) and January (two violations only) and a significant decrease from February (11 violations).
Violations are due to various parties
The parties responsible for violations varied during 2020, in contrast to March. HTS committed two violations, and PYD committed two as well. Whereas, as usual, the Syrian regime was responsible for the most deadly violation (murder).
The number of murdered media professionals in Syria Rises to 457
The Center recorded the killing of a journalist last month. The family of the media activist Jihad Jamal, known as Milan, received during March 2020 the news of his death in the prisons of the Syrian regime, after an arrest lasted for more than 8 years. This increases the number of media professionals who the Center has documented their deaths from mid-March 2011 to 457 media professionals.
The Center also documented the suspension of two journalists from press work and the prevention of two others from reporting. The Media Office of the Autonomous Administration of northeastern Syria (NES), decided on April 1, 2020, prohibiting the media professional Drakhan Ahmed, and the journalist Naz al-Sayyid, from working in northeastern Syria, providing no reasons. Meanwhile, HTS prevented media activists Ali Mustafa Haj Suleiman and Yusef Ahmed Ghribi from media coverage near the town of Sarmin in Idlib countryside.
Geographically, documented violations during April were in three Syrian regions. Two violations occurred in each Idlib and Al-Hasakah, while another one was committed in Damascus governorate.
---
For the full version of the report please download it in PDF format from the attached link.
---