---
The Syrian regime and Russia committed the most serious violations (killing and injuring) in February 2020
March 5, 2020
---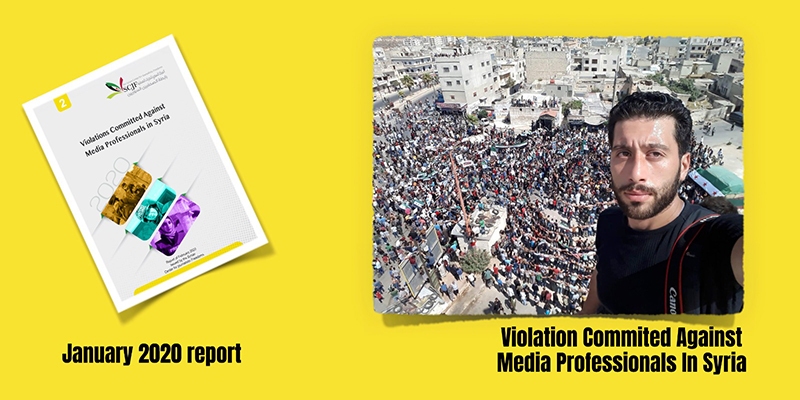 ---
Source: The Syrian Center for Journalistic Freedoms
---
The pace of violations against media in Syria has increased in February 2020 on the grounds of intensifying clashes systematic shelling by the Syrian regime and allied Russia on areas in northwestern Syria.
The Syrian Center for Journalistic Freedoms (SCJF) of the Syrian Journalists Association (SJA) documented eleven violations against media in Syria in February 2020. The documented violations significantly increased from 2 in January to 11 in February 2020.
Russian forces topped those responsible for violations in February 2020 by committing 6 violations while each of the Syrian regime and Hayaat Tahrir al-Sham (HTS) committed 2 violations and the Syrian Democratic Forces (SDF) committed one violation
The Syrian regime and Russia committed the most serious violations (killing and injuring) in February 2020.
The SCJF documented the killing of media professional Amjad Anas Aktalani by the Russian shelling on Idlib's Ariha. Therefore, the number of killed media professionals documented by the SCJF since mid-March 2011 has risen to 456.
Also, seven other media professionals, including Mustafa Ziyyad al-Khalaf, Ahmad Muhammed Rahhal, Ibrahim Muhammed al-Darwish, Saleh Jamil al-Sheikh, and Muhammed Fawwaz Hammoud aka Asmar Aslan, were injured by the Russian airstrikes while they were covering clashes and shelling on Idlib countryside. Meanwhile, media professional Abdulwajed AbdulAzim Haj Istaifie was injured by a missile launched by the Syrian regime while he was covering battles and bombarding in Idlib eastern countryside. On the other hand, media professional Abdulaziz Haj Ahmad aka Abdulaziz Abu al-Bara was injured by a landmine planted by the Syrian regime in the town of Maaret Alya while he was heading to cover clashes in the east of Idlib.
Also, the SCJF documented in February 2020 detaining of media professional Muhammed Hasan al-Hussien by HTS in Idlib's northern countryside on the grounds of his media work.
Members of SDF assaulted media professional Baha Suleiman al-Hussein in the Deir Ez-Zor civil council in Deir Ez-Zor western countryside, according to Deir Ez-Zor 24 website.
It is worth mentioning that February 2020 witnessed the first violation against a female media professional in the current year as members of HTS denied media professional Halla Abdulhay Ibrahim media coverage of a protest held near Idlib's Bab al-Hawa crossing point.
As for geographical distribution, violations occurred mainly in Idlib that witnessed ten while Deir Ez-Zor witnessed one violation.
---
For the full version of the report please download it in PDF format from the attached link.
---