---
As for geographical distribution, violations focused in northern Syria; al-Hasakah province witnessed 9 violations while Aleppo province witnessed 6 violations. Also, one violation was committed in Idlib and one violation was committed out of Syria
November 12, 2019
---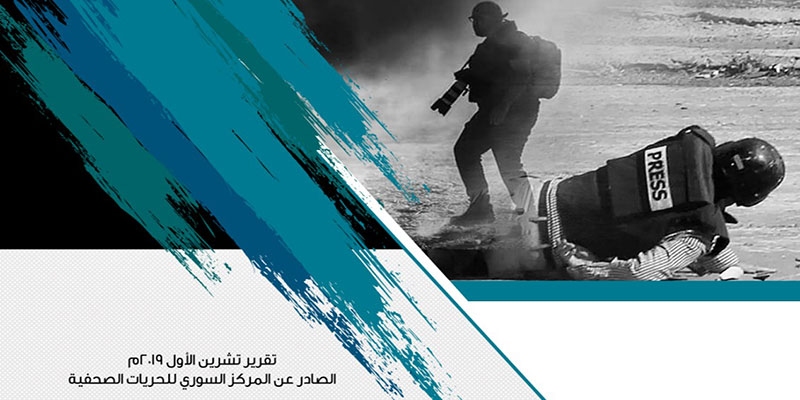 Source: The Syrian Journalist Association
---
Violations against media in Syria in October 2019 witnessed a significant rise in numbers. Clashes in north-eastern Syria, the continuous shelling on Idlib province, and the policy of systematic restricting media freedoms are considered the reasons behind the documented violations in October.    
The SCJF of SJA managed to document 17 violations against media in Syria in October 2019. The violations were committed in northern Syria except one violation committed out of Syria. All in all, October witnessed the most number of violations compared to that documented in previous months of 2019>
Different sides share responsibility for committing the violations in October 2019. The armed Syrian opposition topped violators by committing four violations while HTS committed two violations. Also, each of the Turkish authorities and Russian forces committed one violation. It is worth noting that violators of 9 cases remain unknown at the time of publishing this report.   
The SCJF documented in October the killing of two media professionals and the injury of eight others. Media professionals Saad Muhammed Saeed al-Ahmad and Muhammed Hussien Rasho were killed while being with other media professionals to do media coverage for a campaign of civilians in the city of Ras al-Ayn in al-Hasakah countryside, in north-eastern Syria.  
---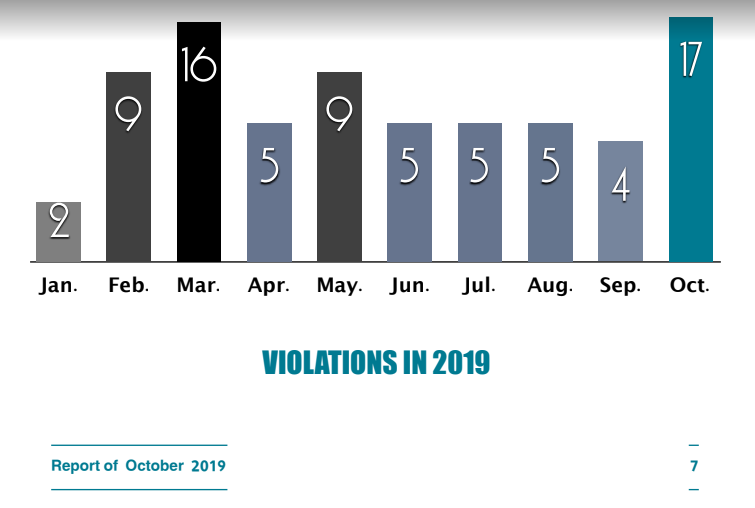 ---
In October, the SCJF also documented the injury of eight media professionals and three of the injured were foreign media professionals who were wounded in north-eastern Syria. Consequently, the number of violations against foreign media professionals documented by the SCJF in Syria since March 2011 has increased to 68 violations.     
Besides, the SCJF documented in October the arrests of 7 media professionals. Hayaat Tahrir al-Sham (HTS) detained media professional Sahl Abdulhamid Abdulsalam from his place in western Aleppo countryside under the pretext of criticizing HTS. It is worth mentioning that Abdulsalam's fate remains unknown at the time of publishing this report. Also, HTS detained media professional Yaser Abdulhadi al-Tarraf in western Aleppo countryside for reasons related to his media work but HTS released him on October 2, 2019.  
The military police of armed Syrian opposition detained media professionals Aref Watad, Bilal Bayoush, Adnan Faisal al-Imam and Ghaith al-Sayed in the region of Qirata front, south of Jarabulus, in Aleppo countryside while being in the area for media coverage of the Turkish military operation in north-eastern Syria. However, HTS released the detainees several hours after their arrest.   
For the first time since the beginning of the current year, the SCJF has documented a violation, out of Syria, against a Syrian journalist; the Turkish authorities arrested the journalist, Zidane Zenglow, a member of SJA, from his place in the Turkish village Akçakale near the Syrian border while he was doing media coverage for the Turkish military operation in north-eastern Syria. Though, Zidane was released several hours after his arrest.   
As for geographical distribution, violations focused in northern Syria; al-Hasakah province witnessed 9 violations while Aleppo province witnessed 6 violations. Also, one violation was committed in Idlib and one violation was committed out of Syria. 
Finally, HTS released media professional Fatih Raslan after detaining him for a month and a half.
---
For the full version of the report please download it in PDF format from the attached link
---