---
Move is a 'precautionary' measure, according to document seen by Reuters
May 19, 2020
---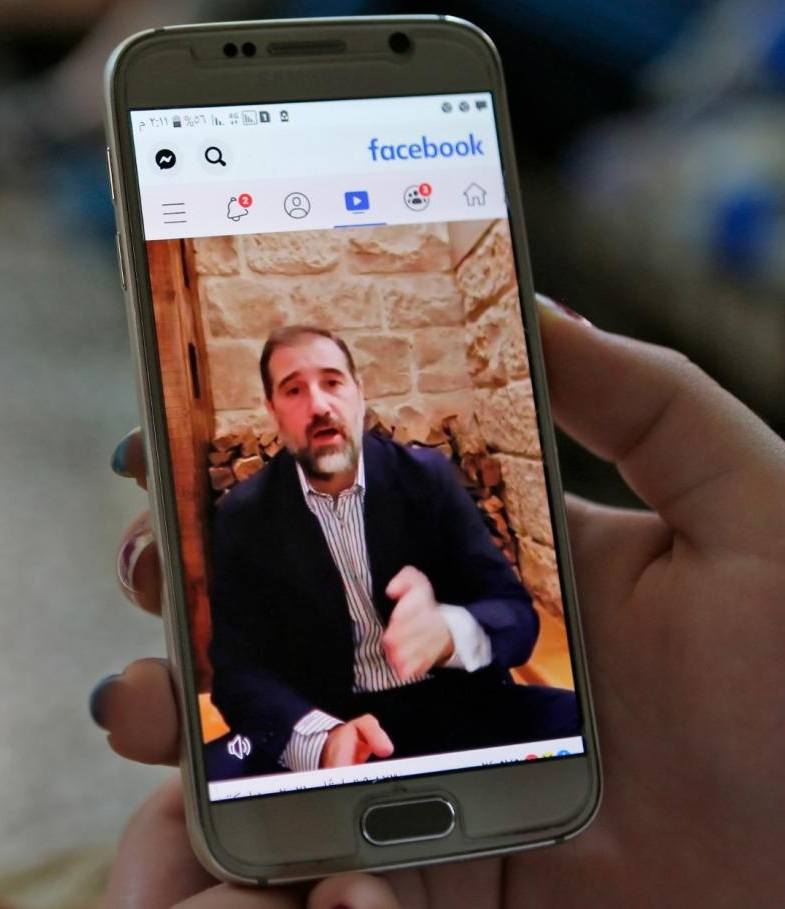 Source: Middle East Eye
---
The Syrian government has ordered the "precautionary seizure" of assets belonging to prominent tycoon Rami Makhlouf, his wife and children, according to a document seen by Reuters.
According to the order, signed by the finance minister, the seizure is to guarantee the payment of money owed to the Syrian government.
Makhlouf, President Bashar al-Assad's maternal cousin, is one of Syria's richest men and is currently embroiled in a row with the government over a tax demand of some $185m that the businessman says will collapse his Syriatel company.
The tycoon, who Middle East Eye revealed remains in one of his villas in Syria, has released a series of videos on Facebook lamenting the breakdown of his relationship with Assad, the money demanded and the arrest of a number of his employees.
On Sunday, Makhlouf said in a third video on Facebook that the government had threatened to arrest him and close his telecommunications empire if he did not step down and hand over his profits.
Makhlouf's Syriatel is the biggest telecommunications company in Syria with 11 million users, and he is one of the most influential business figures in the country.
---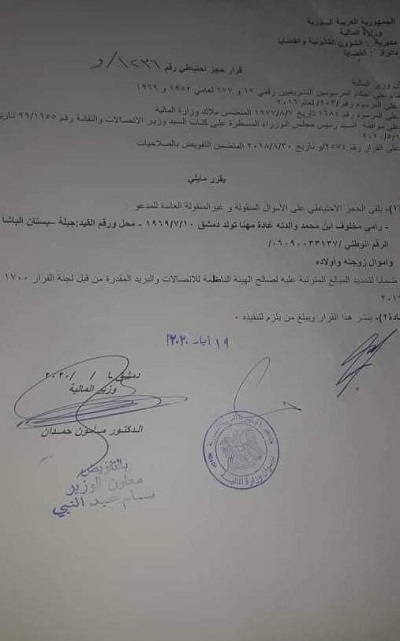 Unconfirmed document (dated today) circulating social media of Ministry of Finance decision to seize movable and immovable assets of Rami Makhlouf, his wife &children as a guarantee of the payment of the sums due to him in favor of the telecommunications Authority
---
He is often said to have controlled around 60 percent of the Syrian economy before war broke out in 2011, through a complex network of companies working in oil, construction, banking, airlines and telecommunications, however experts say that number is an exaggeration.
His wealth was estimated to be worth $5bn before the outbreak of the uprising.
Assad-Makhlouf spat
At the end of April and again in early May, Makhlouf, who has funded pro-government militias during Syria's nine-year war, posted scathing online attacks against authorities.
On 30 April, Makhlouf posted a video on his Facebook page, complaining that the Syrian government had threatened him over multi-million dollar tax payment and telecoms licencing demands, and reminding Assad of his financial support and charitable work.
The Syrian authorities then arrested a number of Makhlouf's senior employees in the telecommunications giant Syriatel, which dominates the country's mobile phone market.
---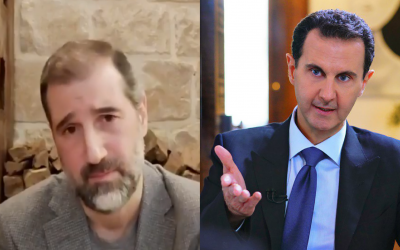 Makhlouf responded with a second video complaining about the "inhumane way" in which the arrests had been carried out.
According to the Britain-based Syrian Observatory for Human Rights activist group, about 40 Syriatel employees and 19 from Makhlouf's sprawling Al-Bustan charity organisation, which has influence in several fields, have been arrested since April.
On Sunday, Makhlouf said that he would be willing to pay the amount demanded by authorities, but the issue of his resignation was a red line.
---
"Whoever thinks I will resign under these conditions, doesn't know me," he said.
Makhlouf – under US sanctions since 2008 – has been an influential figure in the Syrian power structure since Assad succeeded his father Hafez in 2000. His father Mohammed began building the family fortune in the '70s and '80s through tobacco and banking.
The EU has also slapped sanctions on Makhlouf since the Syrian conflict began in 2011, accusing him of bankrolling Assad.
---
---