---
Washington warns of regional destabilisation as 51 civilians killed in ten days of ongoing air assaults
May 3, 2019
---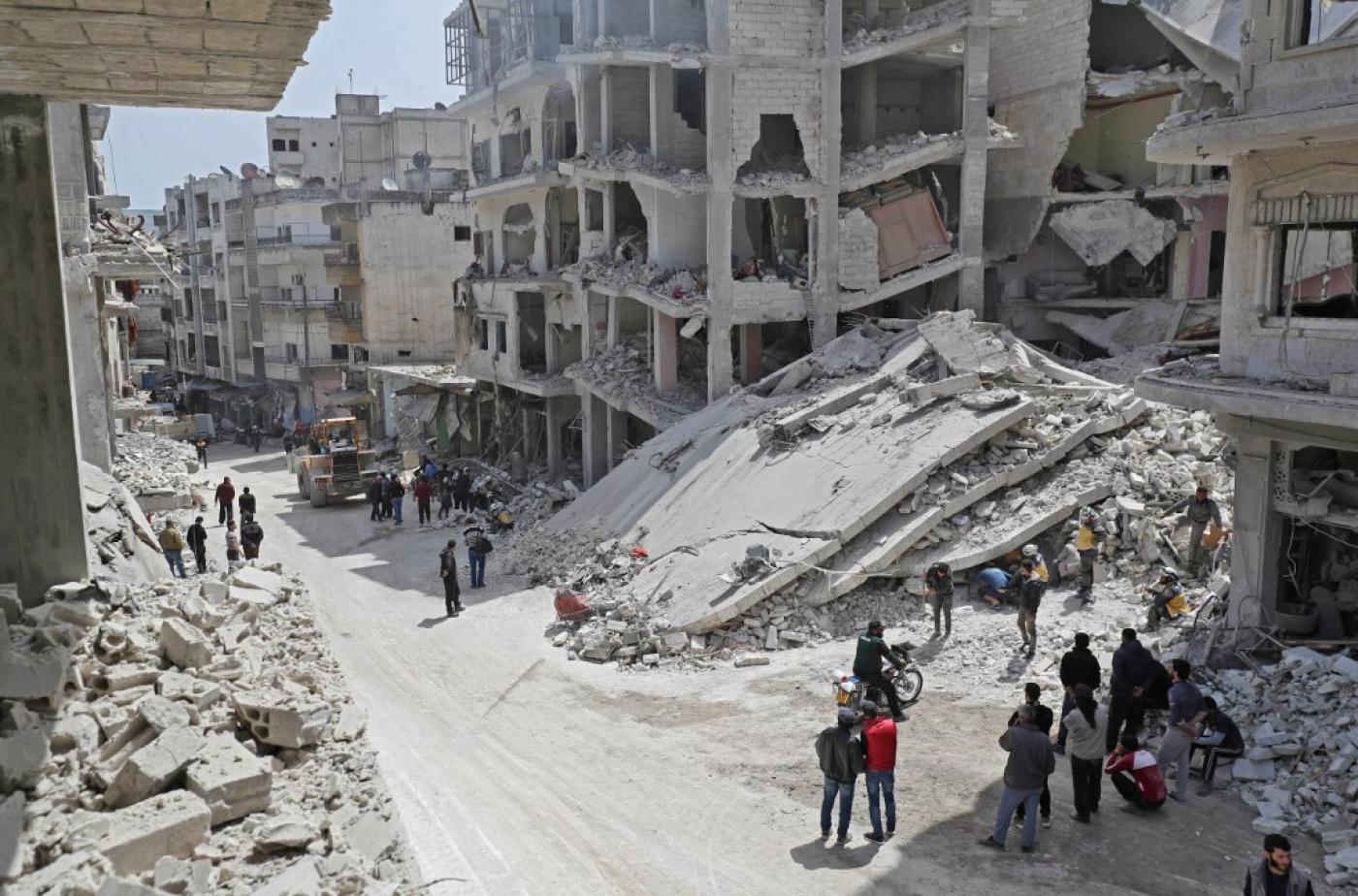 ---
Source: Middle East Eye
---
The United States on Tuesday condemned ongoing air strikes carried out by Russia and Syrian government forces in Idlib and northern Hama, accusing the forces of "blatantly" targeting humanitarian aid groups.
"The violence must end," the US State Department said in a statement, warning that any escalation in violence in northwest Syria "will result in the destabilization of the region".
"We call on all parties, including Russia and the Syrian regime, to abide by their commitments to avoid large scale military offensives, return to a de-escalation of violence in the area, and allow for unhindered humanitarian access to address the humanitarian disaster created by the ongoing violence," the State Department said.
The latest uptick in air strikes began on 20 April, with Russian and Syrian forces targeting the rebel group Hayat Tahrir al-Sham (HTS), a former al-Qaeda affiliate that has controlled most of Idlib since January.
At least 168 people have been killed by the ongoing air strikes, 51 of whom are civilians, according to the Britain-based Syrian Observatory for Human Rights.
On Thursday, two days of peace talks began in Kazakhstan – sponsored by Russia, fellow government ally Iran, and rebel-backer Turkey – but as the peace talks continued, so did the air assaults.
In a statement released after the meeting, the three countries expressed concern about HTS extending its reach in Idlib and the Islamic State (IS) group's influence in Syria.
The day after the talks came to a close, Russian President Vladimir Putin said he did not rule out the possibility of launching a joint, full-scale assault on militants in Idlib province, but stressed that such an operation was not practical for now due to a large number of civilians in the area, according to Reuters news agency.
About three million people live in Idlib and nearby regions and the fighting has resulted in around 120,000 people fleeing to areas closer to the Turkish border.
Speaking in Beijing, Putin said that Moscow and Damascus would continue what he called the fight against terrorism, adding that any militants who tried to break out of Idlib would be bombed.
Russia and Turkey in September signed a buffer zone deal to prevent a massive government offensive on Idlib and nearby regions close to the Turkish border, but the deal was never fully implemented.
The Syrian government has been able to take back large parts of the country from rebels and militants since Russia intervened in the war in 2015.
Syria's war has displaced millions ever since it was sparked by the repression of anti-government protests in 2011.
More than 370,000 have been killed and endless rounds of negotiations have failed to stem the bloodshed.
---
---