---
While Law no.10 has not been put into force yet, the regime is being accused of exploiting the anti-terrorism law to seize the people's properties, even those who did not participate in any acts of violence
March 20, 2019
---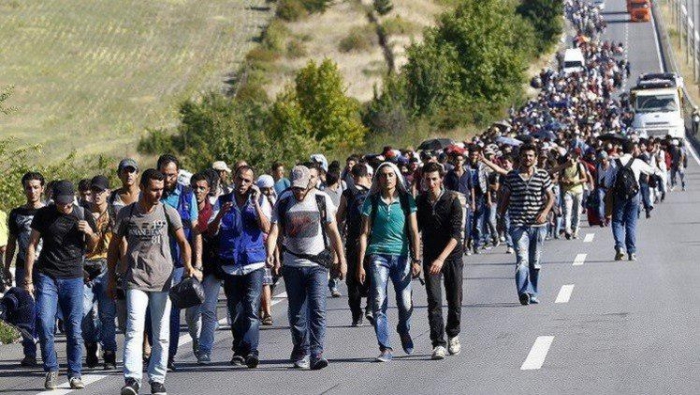 ---
Source:  Enab Baladi
---
---
---
A year from the forced displacement of eastern Ghouta's people, the Syrian regime is still continuing with the systematic pressure-based policy, through seizing the properties of the displaced persons, in addition to the prosecution of those who stayed in the area and arresting them on charges of "terrorism."
---
This is an outspoken breach of the reassurances it offered earlier on, particularly prior to entering eastern Ghouta in March 2018, for the regime promised not to subject the area's people to harassment or security prosecution.
About a month ago, the Syrian regime sought to close eastern Ghouta's surrounding with dirt mounds and sealed some of the main streets; it also conducted inspection campaigns and raids of houses and shops, where it confiscated some of the private belongings of persons who have been displaced to Northern Syria a year ago.
Here it is worth knowing that the regime is calling displaced people to return to their homes while it has foreclosed their properties, thus, posing massive obstacles to their return in case they wished to do so, not to mention the people's inability at utilizing or addressing their properties in whatsoever way.
Confiscating Properties by Force of "Law"
While Law no.10 has not been put into force yet, the regime is being accused of exploiting the anti-terrorism law to seize the people's properties, even those who did not participate in any acts of violence.
For its part, the regime is refuting that the anti-terrorism law is targeting peaceful dissidents or is being used to confiscate privately owned properties illegally.
The Syrian regime has made amendments to the anti-terrorism laws after a year from the Syrian evolution's start and passed a decree granting the courts the power to order the confiscation of privately-owned properties for security considerations.
These procedures, first and foremost, allow for freezing the movable and immovable assets, which prevents their owners from selling them or using them for any commercial purposes. In case these rulings are put into force, the properties are offered for sale in a public auction.
People Narrating their Stories
Enab Baladi spoke to witnesses from Ghouta, whose shops have been closed down or properties confiscated.
Ahmad, an investor of a sweets shop in the city of Kafr Batna, told Enab Baladi that one of the security branches has notified him that he must close his shop and refer to the Military Security Branch. Later on, it became clear that the reason for closing his shop relates to the real-estate's ownership, for the regime is sealing and confiscating all the privately-owned properties belonging to people displaced from eastern Ghouta. He added that the shop has been sealed until an indefinite time.
Fatima, a woman in her fifties from the town of Jisreen, narrated to Enab Baladi the suffering that her family, which migrated to Europe, had to go through upon addressing the transactions of dividing inheritance after her father's death.
All the family's money was seized, given that her brother was a pro-revolution person in the beginning, pointing out that none of the family members managed to get anything back from the regime.
Ayman, a young man in his thirties from the town of Kafr Batna, recounted to Enab Baladi what happened to him after he stayed in the areas held by the Syrian regime, for he came to find that he was being besieged and threatened with either death or arrest for participating in the peaceful demonstrations and for working in the medical field, while he failed to go back to work in his former profession, selling sweets.
Ayman added that he was led to the security branch several times, after which a decision was made, ordering the seizure of his properties and arresting him, which forced him to travel abroad illegally.
Thaer Hijazi, a human rights' activist, stressed to Enab Baladi that numerous incidents where properties have been confiscated in eastern Ghouta, houses and shops of displaced people, were recorded, as implemented by those who he referred to as "Shabiha," the regime's thugs.
Hijazi added that this is framed with the series of penalties the regime is imposing on eastern Ghouta's people and the areas it lately controlled.
He pointed out that in addition to seizing properties, there is a long list of penalties and procedures which the regime is undertaking against Ghouta's people, of which are preventing them from leaving the area before obtaining a security document which police stations and security posts in the area issue, the erection of checkpoints and restrictions, and the massive number of thefts which targeted factories, shops, cars and others.
He also said that whatever transaction that the people would carry on, whether at the civil registry, property-related departments and others, are subjected to thorough security checkups, a method applied to dead people even, for many of the Ghouta's shelling casualties earlier on have either security marks or checks, not to mention the large number of young people who are persecuted by the security branches.
Hijazi stressed that these undertakings and violations are only enhancing the difficulties faced by the people who are in Ghouta at the present time.
According to "Human Rights Watch," the orders of freezing assets were part of countless laws that the Syrian regime used to inflict punishment on dissidents and political opposition.
The Syrian Network for Human Rights has documented the subjection of about 327 persons at least to property confiscation between 2014 and 2018. The numbers might be larger given these properties' owners fear of speaking about this matter.
---
---