---
Thousands displaced from latest round of fighting as Syrian warplanes ramp up it's bombing of Idlib
May 7, 2019
---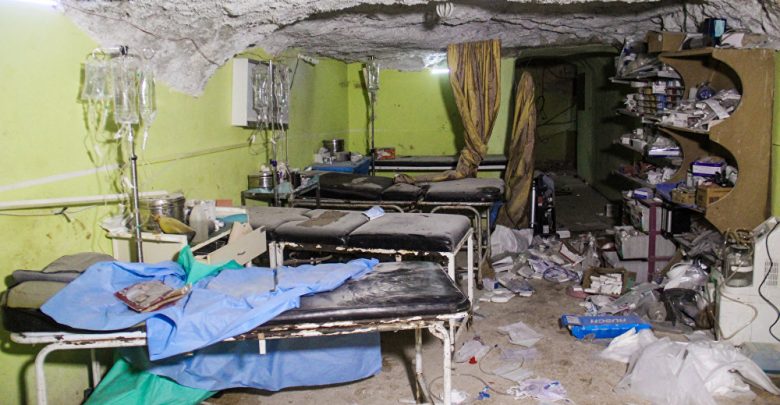 ---
Source: By Zouhir Al Shimale- Areeb Ullah | Middle East Eye
---
Civilians in northwestern Syria have said they are "desperate to leave the country" as pro-Syrian government forces continue to bomb medical facilities across rebel-held Idlib province.
---
At least 77 civilians, including children, have been killed in the last seven days, with the bombardment displacing over 150,000 civilians, according to the Syrian Expatriates Medical Association (SEMA), a Turkey-based relief organisation.
Three hospitals had been bombed out of commission, leaving smaller health facilities struggling to cope with the influx of wounded, monitoring groups reported.
SEMA and other monitoring groups noted that the coordinates for hospitals destroyed in the last week had been shared with the militaries involved in the fighting.
Khaled Haji Mohammed, a 29-year-old father of two, lost his mother in a hospital attack on Sunday.
His mother was transferred to Kafranbel hospital after sustaining injuries during a government attack last week in the town of Lataminah.
"I thought it would be safer for her to be in the hospital but it was attacked and she died in her hospital room," Mohammed told Middle East Eye.
"It was god's will for her to go but why target our hospitals and kill patients? I do not know how or where I will bury her. The bombs might even target the cemetery."
Hospitals 'paralysed'
SEMA noted that six medical facilities it supported were put out of service this week, with many hospitals and schools suspending operations, due to hostilities.
Doctor Fares al-Jonde, the health minister for the Syrian opposition, said that the medical infrastructure in northern Syria had been "almost paralysed" by the bombardment.
"Five hospitals are down and more patients are flooding to the Turkish border's medical point," Jonde told MEE.
"The doctors and medical staff have continued working with barrel bombs and air strikes flying over their heads.
"They have said that they will not stop and willing to die to keep their patients alive."
Mustafa Karkas, who fled from Daraa, was forced to flee again from the town of Maarat al Nouman, where he sought refuge.
Karkas now shares a tent with other displaced families in the Harem mountains near the Syrian border with Turkey.
"I am desperate to leave this country, but I have nowhere to go. We can't go any further from here," Karkas told MEE.
"The attacks are non-stop and we could hear explosions coming all around us… families like mine are being slaughtered. Why is no one doing anything to stop this?"
He added: "We are in a very hard position like other families here, displaced from different places. But they chase us even in our tents."
'Systematic destruction'
This latest escalation comes as Syrian forces, flanked by their Russian counterparts, ramp up their campaign to take control of the last rebel-held area.
Professor Scott Lucas, a lecturer at the University of Birmingham, told MEE that the destruction of hospitals is a similar tactic used by the Syrian government to take control of other opposition-held areas.
He believes the destruction of hospitals is a psychological tactic to break any resistance to a government takeover.
"Targeting health facilities is part of the systematic destruction of infrastructure in opposition areas," Lucas told MEE.
"If people aren't sure about being saved and treated amid the bombing and shelling – or that bodies might not be retrieved – their will to resist might be broken."
---
---