---
Norway has become the latest country to begin legal proceedings against Syrians who have been accused of crimes against humanity and war crimes writes
November 18, 2019
---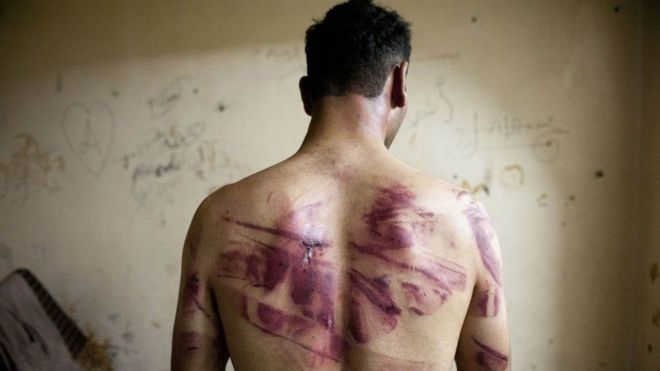 Source:The Syrian Observer| by BROCAR PRESS
---
Far from the bickering of the constitutional committee in Geneva on Nov. 12, 2019, five victims of torture in Assad's cells and prisons put forward a criminal suit against 17 officials in Assad's security agencies to the prosecution office and investigation unit for crimes against humanity and war crimes in the Norwegian capital Oslo.
With these suits, Norway join Germany, Austria and Sweden in opening the doors of their courts to complaints against those who carried out war crimes and crimes against humanity in Syria. There are just four European countries whose laws allows them to prosecute those who carry out war crimes and crimes against humanity in accordance with the principle of universal jurisdiction—Germany, Austria, Sweden, and Norway.
The first suits filed were in Germany on Mar. 2, 2017, with nine plaintiffs, including the lawyers Anwar Bunni and Monhem Helane, and the journalist Mazen Darwish, filing a suit with the German public prosecutor against a number of security officials in Syrian security agencies. In June 2018, the German public prosecutor issued an arrest warrant against Major General Jamil Hassan, director of the Air Force Intelligence Directorate in Syria, before he left his post. Accusations included giving orders to subordinates to torture prisoners to death. The issuance of this arrest warrant was a, "turning point and an important step for those affected by Assad's torture system, and for survivors and families of victims and prisoners who are still in Syrian government detention centers," according to Wolfgang Kalik, general secretary of the European Center for Constitutional and Human Rights.
On Nov. 6, 2017, two new suits were filed in Germany, with charges of crimes against humanity and war crimes, including torture and mass executions in Syria. Fifteen Syrian refugees (men and women) submitted the two claims, with regards to torture carried out in Syrian prisons and security branches.
On May 27, 2018, the first charges were brought to the public prosecutor in Germany against 24 security officers from the Syrian security forces accused of carrying out crimes against humanity, arbitrary arrests, torture, forcible disappearance and killing in detention centers. On May 8, 2019, the public prosecutor listened to victims and plaintiffs, in a move that reflects the acceptance of the prosecution and the initiation of official investigations.
On Feb. 19, 2019, the first case in Sweden was filed by a number of prison survivors to the Swedish prosecutor. On May 16, 2019, the prosecutor heard testimony from prosecutors in the case filed against officials from the Syrian security services. One of the plaintiffs said, "It is very important for me to feel that the Swedish authorities are concerned with our pain and help us achieve justice." Another said: "When efforts are made to seek justice, they are not lost. Now we have reason to be optimistic. We have the power to move forward on this very long journey."
Currently, great efforts are underway to urge other European countries to amend their laws and open the doors of their courts to prosecute the perpetrators of serious violations, war crimes and crimes against humanity on the basis of the principle of universal jurisdiction, despite the conviction that justice for Syrians will not be achieved in foreign courts outside Syria,
However, continuing to bring these cases will diminish the safe havens where criminals are thinking of resorting, and will emphasize the fact that they will unavoidably be held accountable and punished, no matter how long it takes. It also gives an important dose of hope to victims and their families, not to lose faith in achieving justice as long as there are Syrians continuing their efforts to prosecute criminals, try them, and to keep the door of justice open.
The importance of achieving justice in Syria, condemning crimes and serious violations in Syria and holding perpetrators accountable has become an important and urgent need—not only to affirm the rule of law and accountability, redress grievances for families, compensate victims and reassure their relatives, but also put an end to hatred, despair, frustration, extremism, violence and to prevent indiscriminate reprisals, which could destroy the remaining bonds of Syrian society, as well as to establish a peaceful, civil movement and to transition to a safe and democratic society.
The scale of the tragedy suffered by the Syrian people, which has never in its history seen anything like the huge amount of victims, displaced and forcibly disappeared in the regime's prisons, or in terms of the massive destruction and looting that has affected human beings and buildings— requires all of us to work for justice and accountability.
All cases were initiated with the support and participation of the European Center for Constitutional and Human Rights , the Norwegian Helsinki Committee, the Syrian Center for Legal Studies and Research, the Caesar Group and the Syrian Center for Media and Freedom of Expression.
---
---