---
He was also known by his friends as "little Gandhi"
September 6, 2018
---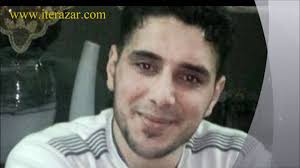 "Remember me when you celebrate the fall of the regime. Remember that I have given my soul and my blood for this moment." These were the words of Ghayath Matar, who rose to demand freedom and dreamed of overthrowing the Assad regime and its symbols. He said, aware that our way to Red Liberty was long, and gave his soul a foal to our revolution.
The name of Ghayath Matar has become a symbol for freedom in Syria, among all Syrians who oppose the Assad regime and fight for freedom and dignity. He was a Syrian political activist in the city of Daraya in Damascus countryside and was killed by the Assad regime during his arrest.
Ghayath was born on October 8, 1986. He lived with his family in a quiet and stable life despite the oppression, discrimination and repression that the Assad's regime had imposed.
He won the second place in the Republic of the championship bodybuilding, where he was interested in physical fitness and sports, and then worked furniture upholstery in his city Daraya.
Ghayath Matar was one of the first Syrian activists who took to the street calling for peaceful demonstration. He was distinguished with his voice with the peaceful resonance and his elegant behavior. He was also known by his friends as "little Gandhi." He criticized the behavior of the criminal regime in Daraa.
Ghayath was creative in organizing demonstrations demanding freedom in the city of Daraya, which was part of the demonstrations that covered the entire Syrian territory in 2011. He became famous for the Rose and Water campaign, in which he and his fellows, including his frend Yahia Shourbaji (who himself was killed by the regime too) provided bottles of  water and roses to the security forces and the army of the Assad regime during the demonstrations to show show the peacefulness of the revolution and the ethics of the demonstrators. He tried this initiative to appeal to the humane part within the Security personnel. However, these attempts failed in the face of the brutality of the Assad forces and his loyal supporters.
Ghayath was arrested on September 6, 2011. He was 26. He was returned to his family as a dead body. The body showed all kinds of torture that had been exercised on him.
Eight years have passed now on the martyrdom of Ambassador of Roses. We will always cherish his memory as a leader of the Syrian peaceful revolution.
source: Horriya Press