---
Ghada Bakir says that the idea of the book was not born today, but originated since 2011, when Saraqib's martyr Ahmed Saleh al-Da'as was arrested and killed under torture by regime security in the northwestern province of Idlib
October 4, 2018
---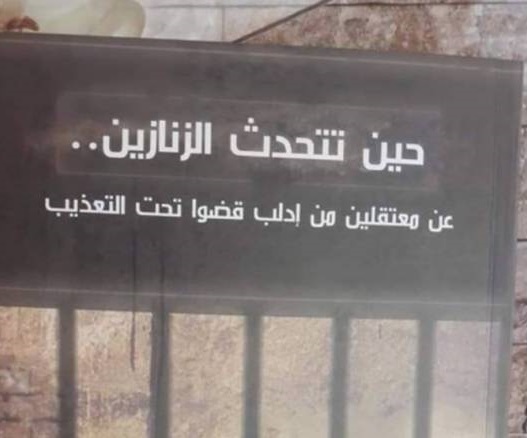 (Zaman Al Wasl)- The book "When Cells Speak" recounts the stories of 52 martyrs who died under torture in Assad's prisons. Between its pages, the true meaning of the suffering of the martyrs and detainees of the Syrian regime is revealed; they were not merely figures and numbers but they were inflicted souls that suffered from various kinds of torture and oppression.
Ghada Bakir says that the idea of the book was not born today, but originated since 2011, when Saraqib's martyr Ahmed Saleh al-Da'as was arrested and killed under torture by regime security in the northwestern province of Idlib. 
Bakir described her book as "an attempt to resurrect the martyrs in a different way than what we see as the pictures that were leaked from the detention camps were mutilated bodies with figures pasted on their foreheads. I wanted to tell the world that they are not just numbers but human beings with lives of their own, with families, ambitions and hopes of their own; hopes they unfortunately haven't achieved. They hoped to attain freedom and were tortured and killed for it.
The book talks only about the detainees Idlib and its countryside after field visits to the families of martyrs which lasted five weeks. The writer interviewed them and tried to cover the largest possible number of martyr stories.  The number of stories reached fifty.
"We documented the martyrs, gathered the pictures and attended the interviews. However, it was the Turkish newspaper Zeitun that took over the editing process and the task of printing and distributing the book in Turkey," Bakir added.
This book is the third document on the issue of the detainees, Bakir says. It was wrong to link this issue to the political dimension; it is after all a humanitarian issue which, after 8 long years of revolution has not yet been addressed and that also explains the absence of practical steps from the United Nations or international organizations alike, that closed their eyes on this issue. The smuggled images leaked by Caesar waited three years before they were considered and looked into by international courts.
.
.