---
Organisation for the Prohibition of Chemical Weapons finds that no one was killed in the strike, but 12 people had symptoms consistent with a chemical attack.
April 15, 2021
---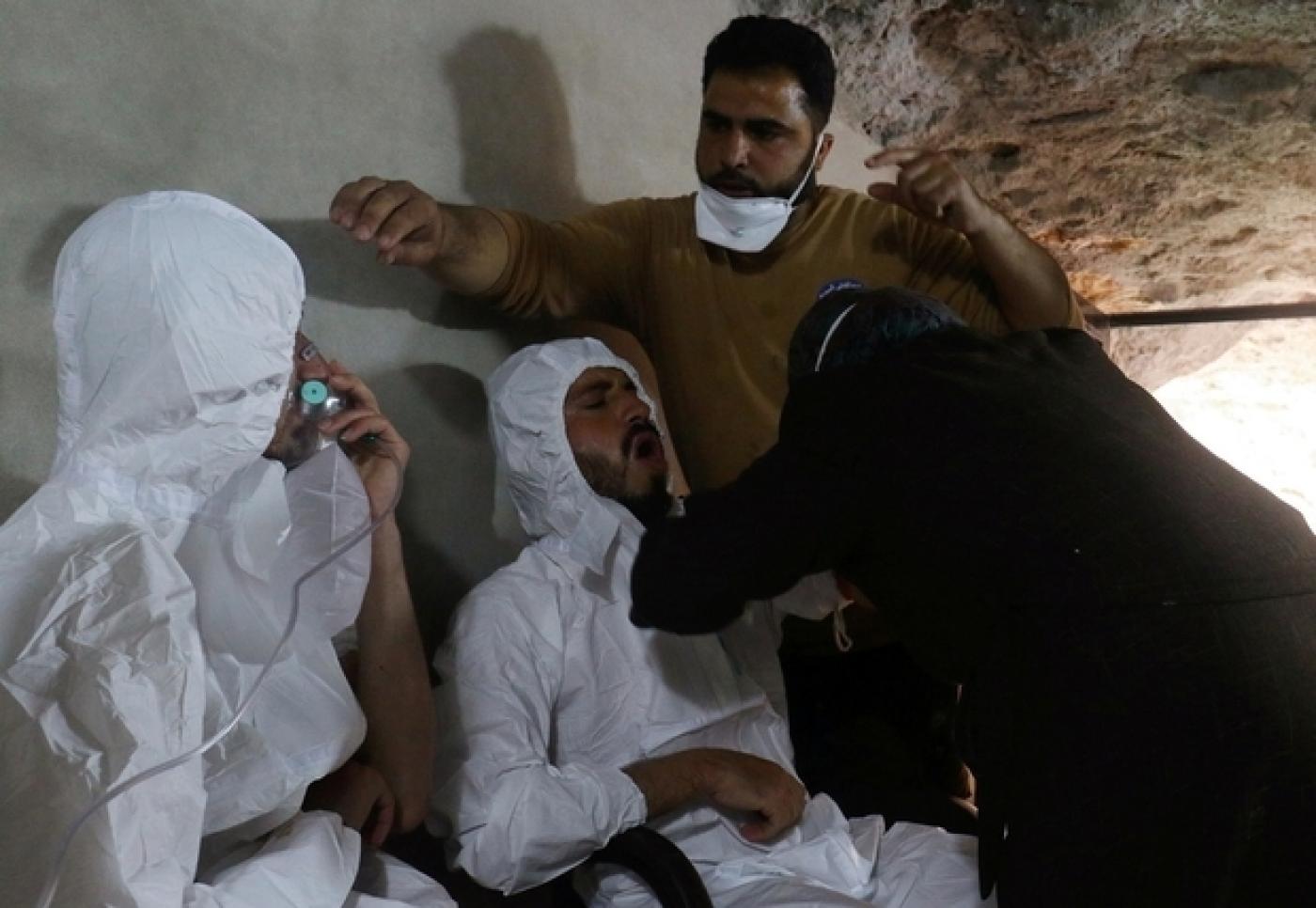 Source: Middle East Eye
---
The Syrian air force dropped chlorine on a residential neighbourhood in Idlib during an attack in 2018, the global chemical watchdog ruled on Monday.
A new report by the Organisation for the Prohibition of Chemical Weapons (OPCW) said the Syrian Air Force used chemical weapons in the town of Saraqib, in north-west Syria.
It ruled that no one was killed by the chlorine gas cylinder, which was dropped in a barrel bomb, but said a dozen people were treated for symptoms consistent with chemical poisoning.
"The report reached the conclusion that there are reasonable grounds to believe that, at approximately 21:22 on 4 February 2018, a military helicopter of the Syrian Arab Air Force under the control of the Tiger Forces hit eastern Saraqib by dropping at least one cylinder [containing chlorine gas]," the OPCW report said.
"The cylinder ruptured and released chlorine over a large area, affecting 12 named individuals."
The report is the second in an investigation set up by the OPCW, which now has the power to attribute culpability for an attack.
While chlorine is not an internationally banned chemical, its use in armed conflict is banned under the 1997 Chemical Weapons Convention, which the OPCW oversees from the Hague.
In April 2020, the OPCW's Investigation and Identification Team (IIT) concluded that Syrian warplanes and a helicopter had dropped bombs containing chlorine and sarin nerve gas on a village in Syria's western Hama region in March 2017.
This latest report by the IIT also implicated Syrian government forces. It concluded that "there were reasonable grounds to believe that at least one cylinder filled with chlorine was dropped from a helicopter of the Syrian Arab Air Forces, belonging to the Tiger Forces".
The Tiger Forces is an elite Syrian military unit used in offensive operations in the war. Until 2019 it was part of the Syrian Air Intelligence, but is now under the command of the Syrian Arab Army, with President Bashar al-Assad having wrested back most territory with crucial Russian and Iranian support.
The Syrian government did not comment on the OPCW's report.
The OPCW also previously found in a separate report that between 2015 and 2017 Syrian government troops used the nerve agent sarin and chlorine barrel bombs. It also found that the Islamic State group used mustard gas.
---
---
---