---
Christmas gifts are raining on Syria's dictator Bashar al-Assad from everywhere. The biggest, however, comes from the U.S. President Donald Trump. On Wednesday December 19, President Trump abruptly He announced that he was immediately withdrawing all America's 2,000 troops from Syria, claiming that he had achieved victory over ISIS. Trump took this decision against the advice of almost all his aides and advisors. The biggest winner of this move is of course Bashar al-Assad, as well as the Russians and the Iranians. In fact, Vladimir Putin in his annual press conference praised Trump for retreating. "On this, Donald is right," the Russian president said during his year-end news conference in Moscow. "I agree with him."
December 24, 2018
---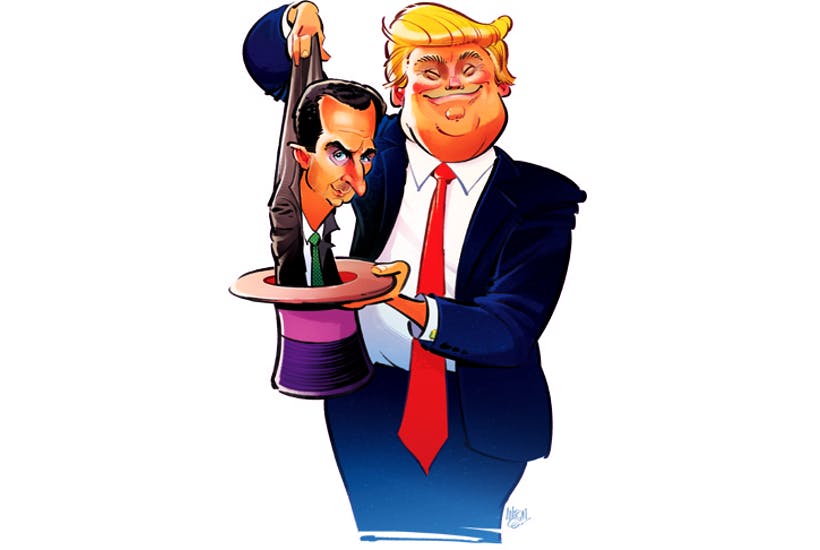 Wael Sawah – Pro-justice
Christmas gifts are raining on Syria's dictator Bashar al-Assad from everywhere. The biggest, however, comes from the U.S. President Donald Trump. On Wednesday December 19, President Trump abruptly He announced that he was immediately withdrawing all America's 2,000 troops from Syria, claiming that he had achieved victory over ISIS. Trump took this decision against the advice of almost all his aides and advisors. The biggest winner of this move is of course Bashar al-Assad, as well as the Russians and the Iranians. In fact, Vladimir Putin in his annual press conference praised Trump for retreating. "On this, Donald is right," the Russian president said during his year-end news conference in Moscow. "I agree with him."
Although this was not surprising understanding Trump, it was unexpected, as Trump himself had announced as recently as September a new US strategy in Syria, which required the US forces to stay in Syria, until the full defeat of the Islamic State (ISIS) and until  the end of Iran's role and presence in Syria.
Another gift to Syria's butcher comes from Algeria. The ailing Algerian president is reportedly pressuring Tunisia to invite Syrian President Bashar Al-Assad to the Arab League summit to convene in the North African country early next year. The Algerian Ambassador to Tunisia Abdelkader Hajjar may exert pressure on Tunisia to invite the Syrian president to the Arab summit, The Middle East Monitor (MEMO) online portal reported.
Tunisia has so far sent out invitations only to Saudi Arabia and to the UAE, Foreign Minister Khemaies Jhinaoui told a local daily this weekend. The Syrian people expect the country that started the Arab Spring to maintain its independence and refuse the Algerian (and others) pressure to invite somebody who is slaughtering his own people to this forum, which will reinstate the legitimacy has lost.
A third Christmas gift is given to Assad from his counterpart Adbel Fattah El Sisi. Head of Syria's National Security Bureau and the leading criminal in the Syrian security sector, Maj. Gen. Ali Mamlouk, arrived in Cairo.
This comes in the heel of an infamous visit of Mamlouk to Italy earlier this year. Mamlouk visited Egypt last time in 2016 when Cairo kept up security contacts with Damascus despite a general snub in the Arab world. Cairo has reportedly negotiated some of the reconciliation deals between the Syrian government and militant groups.
Jordan was also seeking to restore its ties with Syria, putting it down to Syria's military gains that have secured their common border. A Jordanian parliamentary delegation had recently visited the Syrian capital and taken back a message from President Assad to King Abdullah II. Signs are accumulating that the two countries are normalizing ties gradually.
Earlier this month, Sudanese President Omar al-Bashir arrived in Damascus in the first such visit by an Arab leader since Syria the Syrian revolution broke out in March 2011.
The Syrian criminal-in-Chief will have a joyful Christmas. The world is rewarding him for his crimes. The leader of the free world is bowing before him. However, there is one factor that these parties have forgotten: the Syrian people, who still refuse to acknowledge Assad as president and who still want to have a political future without Assad or his family, in a free, democratic Syria.