---
Monday's weather will be cloudy along with wind speed that exceeds 80 kph. Temperatures will drop further, with snow expected below 1,000 meters
January 8, 2019
---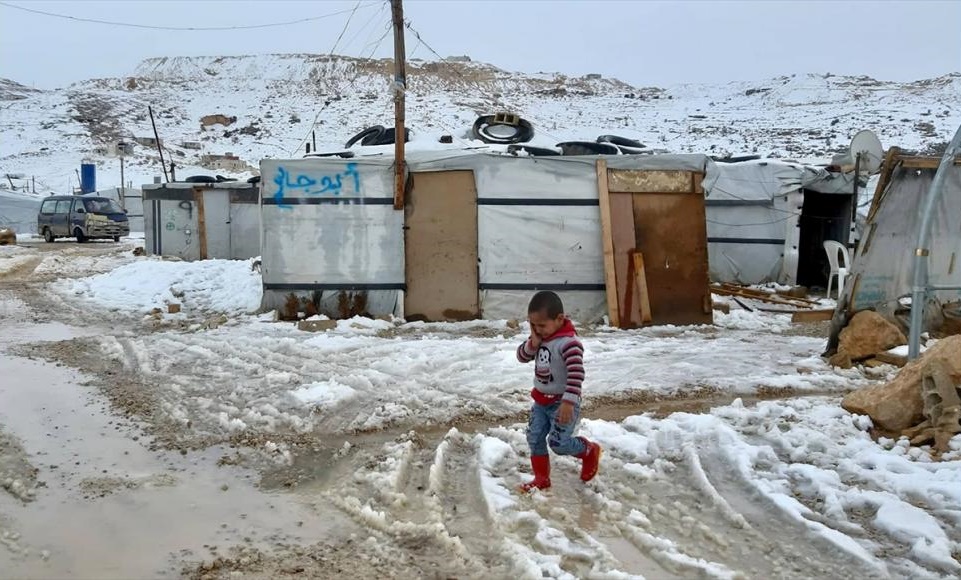 Lebanon Sunday began to feel the impact of a heavy storm that is expected to gather force in the upcoming days, bringing more snow to Lebanon's peaks, the Lebanese Daily Star reported.
But such news will increase the suffering of Syrian refugees who are stranded throughout Lebanon where most of them in severe need to proper shelter and aid.
Arsal's border camps are the largest in Lebanon where about 80,000 Syrian refugees live in 117 camps near the Lebanese border with Syria.
The low air pressure that hit Lebanon Saturday evening intensified and turned into a storm that Beirut airport's Meteorological Department has dubbed "Norma." It is set to batter the country with heavy rainfall, strong winds, snow and colder temperatures.
The heavy rainfall caused floods and rockfalls in Batroun earlier in the day. A partial landslide temporality blocked the Chekka tunnel towards Beirut before it was cleared.
The Internal Security Forces has urged citizens to drive carefully during the rain in order to prevent skidding. It added that the Zahle-Tarshish road was accessible to SUVs and cars equipped for snow.
The agency also announced it had rescued six people in Hermel who had been trapped in snow.
Monday's weather will be cloudy along with wind speed that exceeds 80 kph. Temperatures will drop further, with snow expected below 1,000 meters.
The weather Tuesday will begin with sporadic rainfall in the morning that will intensify in the afternoon, accompanied with winds whose speed will reach 90 kph. Snow will fall starting at 800 meters.
About 110,000 Syrian refugees have returned from Lebanon to their home country in 2018, Lebanese General Security said in December. (With The Daily Star)