---
he group should remove its reservation entirely, and stop recruiting anyone under 18, Human Rights Watch said.
August 4, 2018
---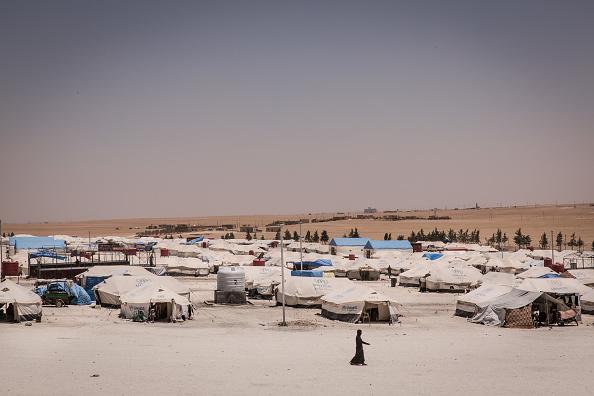 The People's Protection Units (YPG), the largest member of the Syrian Democratic Forces military alliance in northeast Syria, has been recruiting children, including girls, and using some in hostilities despite pledges to stop the practice, Human Rights Watch said today.
Recent data from the United Nations showed a disturbingly high increase in child recruitment by the YPG last year. The armed group should immediately demobilize children in its ranks and stop recruiting children, including from families in displacement camps under their control. International law prohibits non-state armed groups from recruiting anyone under 18, and enlisting children under 15 is a war crime.
"The YPG, despite pledges to stop using child soldiers, is still recruiting children for military training in territory it controls," said Priyanka Motaparthy, acting emergencies director at Human Rights Watch. "It's especially horrendous that the group is recruiting children from the vulnerable families in displacement camps without their parents' knowledge or even telling them where their children are." The United States government, which supports the Syrian Democratic Forces, should urge the group to end its use of child soldiers, Human Rights Watch said.
Human Rights Watch interviewed eight families at three displacement camps in northeast Syria who said that either other recruits from the YPG or Asayish (internal security) officers in the camps had encouraged their children to enlist. These families reported that six girls and two boys between 13 and 17 had enlisted. Most families had no contact with their children since they were recruited and only knew from authorities that the children were in training. But one mother said that her son, 16 when he enlisted, had a combat role and died as the group fought to retake the city of Raqqa. One former recruit said she saw girls between 15 and 17 in training.
The annual UN report on children in armed conflict found 224 cases of child recruitment by the YPG and its women's unit in 2017, an almost fivefold increase from the previous year. Seventy-two of the children, nearly one-third, were girls. In at least three cases, the group abducted children to enlist them.
The families Human Rights Watch interviewed all said their children enlisted voluntarily. In some cases, children discussed the possibility with their parents, who had refused permission, but joined anyway. Siblings or other children in the camp saw the children driving off with Asayish officers, and either camp administrators or Asayish officers confirmed that their children were taken for military training, the parents said.
"We are poor, so they told my daughter they would give her money and clothes," the mother of a 13-year-old girl said. Though she told her daughter not to enlist, she did and has been missing for a month, the mother said.
The families said that authorities refused to disclose their children's whereabouts or permit communication with them. The families had not spoken with their children for as long as six months. The mother of a 16-year-girl said she received US$300 a month based on her daughter's enlistment, but had not been able to communicate with her for six months. She said: "I went to the main gate [of the camp] and asked the administration about her. They said she is fine, but I told them I want a photo or voice message. But we know nothing about her, only her salary."
The mother of a 17-year-old girl, said: "I haven't had any call, any way to talk with [my daughter]. We just want to know if she's alive or dead. I want to leave camp, I have a house in Damascus. I want to go there. But I want to know about my daughter." Other parents also said they wanted to leave displacement camps but were afraid to because their children would not know how to reach them.
The mother of the 16-year-old boy killed during the battle for Raqqa showed Human Rights Watch photos of the boy in military clothing, carrying a weapon, and official records that confirmed his age. "He said, 'I want to protect my house so my family can go back,'" his mother said. "They just put him in a car…heading to the front lines for the battle of Raqqa." Military officials visited her in camp and told her how her son had died, she said.
Human Rights Watch sent a letter on June 29, 2018, to the group and to the executive committee of the Kurdish Democratic Union Party-led Autonomous Administration describing the pattern of child recruitment, requesting information on measures they were taking to prevent recruitment and use of children in hostilities, and asking whether the armed group obtains parental consent and allows family communication for recruits under 18.
The administration replied on July 16 stating that families are informed when a child enlists but that children may join without parental consent. The letter acknowledged that children ages 16 and 17 can enlist, but said they are not placed in combat roles. Instead, the letter states, "they are placed in special centers where they receive intellectual and occupational training." It said that girls from displacement camps have sought protection from the forces to escape early marriage, harassment, and rape, and that the women's unit has provided them with shelter and protection.
In three of the cases documented by Human Rights Watch, parents or community members said that domestic abuse or unspecified problems at home led girls to enlist. Human Rights Watch also interviewed a member of the women's unit who was over 18 who said she enlisted due to problems at home. If children are joining armed forces to flee early marriage or domestic abuse, or to provide for their families, the Syrian Democratic Forces and the Autonomous Administration should not be enlisting them into the military and instead seek to protect them from such abuse with civilian measures, Human Rights Watch said.
For instance, they should provide protection for vulnerable women and children in civilian shelters, and opportunities for residents to leave the camp including civilian education or work instead of recruiting them for the armed groups. As a key ally of these forces, the US should encourage the YPG to end all recruitment and use of child soldiers and provide support for tthese alternatives. The US has supported the Syrian Democratic Forces, of which the YPG is currently the largest member, with training and arms. US law, the Child Soldiers Prevention Act, prohibits the US from providing military assistance to governments recruiting and using child soldiers. The US should apply the same principles to non-state armed groups it supports, Human Rights Watch said.
Human Rights Watch remains concerned about the armed group's "non-combatant category" for children ages 16 and 17. In 2014, the group signed Geneva Call's Deed of Commitment, through which non-state armed groups pledge to uphold international humanitarian law standards including not to recruit or use child soldiers, but entered a reservation stating that the group would continue to accept 16 and 17-year-olds but not have them perform military functions. In June, Geneva Call announced that the group would amend its internal code of conduct so that only those 17 and above could enlist.
The group should remove its reservation entirely, and stop recruiting anyone under 18, Human Rights Watch said. The Optional Protocol to the Convention on the Rights of the Child on the involvement of children in armed conflict prohibits non-state armed groups from recruiting children under 18 for any purpose, including for military training. Under customary international humanitarian law and the Rome Statute of the International Criminal Court, it is a war crime for members of armed forces or non-state armed groups to conscript or enlist children under 15, or to use them in hostilities.
"Even if children are fleeing domestic violence or poverty, the YPG is not protecting them by recruiting them into their forces," Motaparthy said. "If they are serious about helping these children, they should live up to their pledge and provide alternatives to ensure that the children don't lose their future or their lives."
.
.