---
Countries Should Support Citizens' Returns, Increase Aid
July 25, 2019
---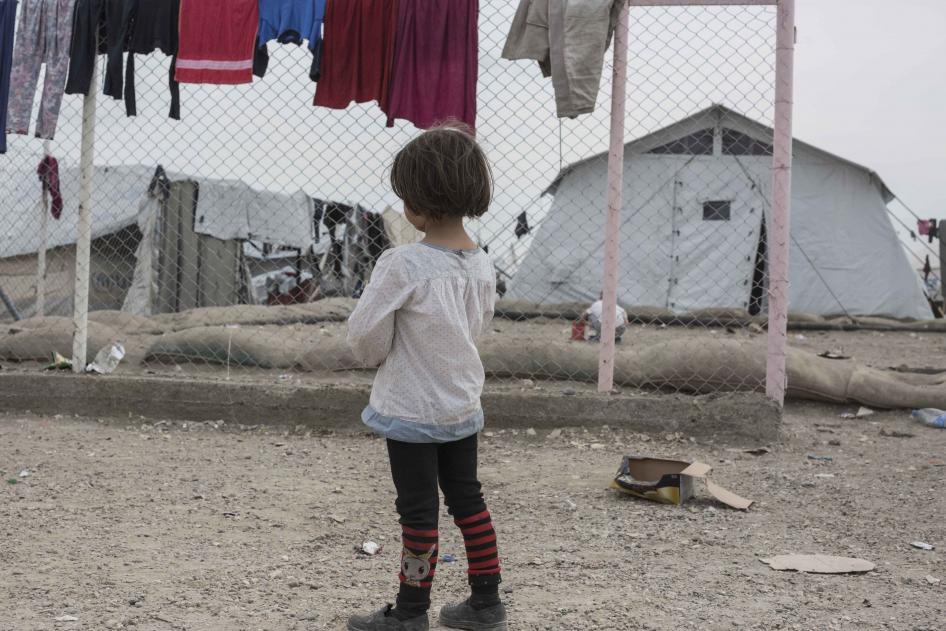 Source: Human Rights Watch
---
(Al-Hol, Northeast Syria) – The Kurdish-led Autonomous Administration for northeast Syria is holding more than 11,000 foreign women and children related to Islamic State (also known as ISIS) suspects in appalling and sometimes deadly conditions in a locked desert camp in northeast Syria, Human Rights Watch said today. At least 7,000 of the children are under 12.
During three visits to the section of al-Hol camp holding foreign women and children in June 2019, Human Rights Watch found overflowing latrines, sewage trickling into tattered tents, and residents drinking wash water from tanks containing worms. Young children with skin rashes, emaciated limbs, and swollen bellies sifted through mounds of stinking garbage under a scorching sun or lay limp on tent floors, their bodies dusted with dirt and flies. Children are dying from acute diarrhea and flu-like infections, aid groups and camp managers said.
"Foreign women and children are indefinitely locked in a dustbowl inferno in northeast Syria while their home countries look the other way," said Letta Tayler, senior terrorism and counterterrorism researcher at Human Rights Watch. "Governments should be doing what they can to protect their citizens, not abandon them to disease and death in a foreign desert."
At least 240 children have died en route or upon arrival to al-Hol, according to the United Nations. Authorities from the camp, which is overseen by the Autonomous Administration, do not appear to consistently record deaths, international aid group members said. The groups did not want to be identified for fear of losing access to al-Hol.
Al-Hol guards do not allow the women and children to leave the camp except when escorted out for emergencies such as surgery not available in camp hospitals.
Officials from the Autonomous Administration told Human Rights Watch they do not intend to prosecute the women and children. Asked about the legal status of the women and children, they said only in a brief written statement that when the women and children left ISIS-held areas, they were "transferred to al-Hol to work on delivering them to their countries given that they are from different nationalities." The Autonomous Administration has repeatedly called on home countries to take back all foreigners in their custody. "We are overwhelmed," a camp manager said.
Countries should immediately assist efforts of their citizens held in al-Hol camp to come home if they choose to do so. The Autonomous Administration, as well as home countries, should ensure that detention is only imposed according to law, on an individual basis, and with all basic rights of detainees under international law including judicial review of detention.
Donor governments, the United Nations, and humanitarian agencies should also immediately increase aid to all camp inhabitants, more than 7,000 of them children.
From June 21 to 23, Human Rights Watch interviewed 26 foreign women confined in al-Hol annex from countries including Australia, Belgium, Canada, France, the Netherlands, and Trinidad. The women included mothers who begged camp guards for news of husbands or sons whom US-backed, Kurdish-led troops, called the Syrian Democratic Forces (SDF), had separated from them when they fled ISIS-held areas over the past several months.
"Please, tell me, where are my sons? Please, let me visit them," pleaded "Aisha," a pregnant woman from Trinidad. The SDF took her two sons, ages 14 and 15, and their father when the family fled ISIS-held Abu Badran in January, she said.
"First they said they would bring my boys to me in a month. Then they said two more weeks. Then they said they were sick in the hospital," Aisha said of camp officials. Like other women interviewed, Aisha did not want her real name used. "Then for the past two months, nothing."
---