---
The war in Syria, which began almost a decade ago, makes it the only country where the outlawed bombs have been repeatedly used since 2012.
December 5, 2020
---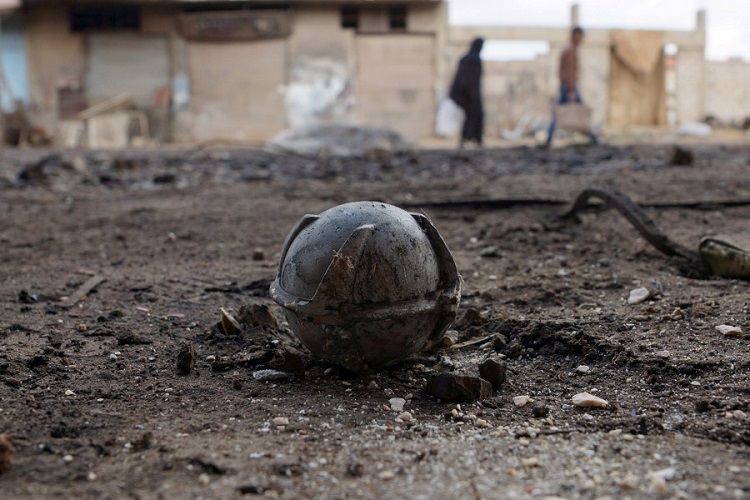 Source: The New York Times |By Rick Gladstone

---
Casualties from cluster bombs, the internationally banned weapons that kill indiscriminately, nearly doubled last year, mostly because of use by the Russian-backed armed forces of Syria in that country's nearly decade-old war, a monitoring group reported on Wednesday.
At least 286 people were killed or wounded in 2019 from cluster-bomb attacks or from remnants of the munitions, compared with 149 in 2018, according to the monitoring group. It said Syria accounted for 219 of the 2019 casualties — triple the number there in 2018.
The findings by the monitoring group, the International Campaign to Ban Landmines-Cluster Munitions Coalition, were contained in its 10-year review of compliance with the Convention on Cluster Munitions, the treaty banning the weapons that took effect in August 2010 after being ratified by 30 countries. Since then, that number has grown to 110 countries, none of which have used the weapons.
The group said it had also found use of cluster munitions in Libya in 2019, and that it had reviewed allegations of their use last year in Yemen and in the contested Kashmir region on the India-Pakistan border but could not make a conclusive determination.
Casualties from unexploded remnants of cluster munitions were reported last year in Afghanistan, Iraq, Laos, Lebanon, Serbia, South Sudan, Syria and Yemen, as well as the disputed regions of Nagorno-Karabakh and Western Sahara, the group said.
From 2010 to 2019, the group said, at least 4,315 cluster munition casualties were reported in 20 countries and other areas, but that more than 80 percent were in Syria. At least 686 cluster munition attacks have been reported in Syria since July 2012, the group said, making it "the only country to have experienced continuous use of the weapons" during that time.
The group's report was released just weeks after fresh accounts of cluster-bomb attacks emerged during an intense eruption of hostilities between Azerbaijan and Armenia, the adversaries in the Nagorno-Karabakh conflict. Michelle Bachelet, the United Nations High Commissioner for Human Rights, said such attacks, if confirmed, were "deeply troubling" and she called on both sides to join the Convention on Cluster Munitions.
Many countries, including major arms producers like the United States, China, Russia, Ukraine and Israel, have not joined the treaty, which prohibits all use, stockpiling, production and transfer of the weapons.
Nonetheless, disarmament advocates say, the treaty's increased acceptance has helped stigmatize these weapons, placing international shaming pressure on the holdouts that insist on retaining them in their arsenals or selling them elsewhere.
Launched from the ground or dropped from the air, cluster munitions are a type of weapon that distributes smaller explosive weapons, called submunitions or bomblets, designed to detonate over an area the size of a football field. They kill or maim with no distinction made between civilian noncombatants and fighters.
Moreover, some of these bomblets fail to explode but can remain lethal for decades, effectively turning into booby traps. Many victims of these bomblets are unsuspecting children who find them on the ground.
The use of cluster bombs has been documented repeatedly in Syria, where President Bashar al-Assad's forces have been fighting an array of adversaries since the Arab Spring protests of 2011. Russia, Mr. al-Assad's principal ally, has denied responsibility for cluster-bomb attacks, but Russian-made remnants of these weapons have been found in Syria.
In January, for example, Human Rights Watch reported that a ballistic missile with a Russian cluster-bomb warhead launched by Syria devastated a school in Idlib Province, killing 12 civilians including five children. In 2017, the Atlantic Council's policy research center documented use of Russian cluster munitions in the bombing of Aleppo.
Although the United States has not signed the treaty banning cluster munitions, it pledged in 2008 to sharply restrict their use to avoid disproportionate harm to civilians. But that policy changed under the Trump administration in December 2017 when the Pentagon allowed American forces to stockpile the weapons. Many are believed to be stored in South Korea.
---